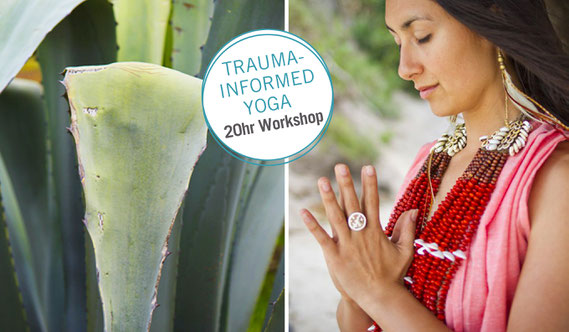 JUNE 21 - 23, 2019  |  ARRIFANA, PORTUGAL
Trauma-informed Yoga - Workshop with Mei Lai Swan, Yoga for humankind.
Join Mei Lai Swan for this 20 hour professional development workshop that provides an introduction to the principles and practices of trauma-informed and inclusive yoga teaching. We will cover the foundations of trauma and attachment theory, neuroscience, evidence-based trauma-informed yoga practice and teaching skills, person-centred and social justice approaches, and the compassionate heart of yoga wisdom.
Yoga for Humankind is a social enterprise yoga training school committed to sharing the benefits of yoga, mindfulness and movement practices with communities around the world. 25% of profits goes directly to supporting community-based yoga programs.  
DETAILS & SCHEDULE
This experiential workshop is designed to support yoga teachers and those working with people who have experienced trauma to understand personal and collective trauma and its impacts on the body-mind || Understand and work effectively with body-based practices for trauma healing and wellbeing || Create safer and more inclusive environments for yoga and body-based practices || Practice, engage and teach with compassion: meet each person where and how they are, and support them to foster a greater sense of self, agency, wellbeing || Explore the intersection between yoga, social justice and service
Friday:  11.30 - 13.30 and 15.00 - 18.00.
Saturday: 9.00 - 12.00 and 13.30 - 16. 30. 
Sunday: 9.00 - 12.00 and 13.30 - 16.30.
Cost: 240 Euro. (180 euro if co-attending Yoga of sound training with Mei Lai). 
If cost is an issue for you, please email us to see how we can support your participation. We are committed to accessibility and inclusivity!
To sign up please use the Registration Form on the bottom of this page. The payment of the full course fee within 48 hours after registration will save your spot. 
Open to yoga teachers, community & health professionals, and committed yoga practitioners wishing to explore a trauma-informed, inclusive and compassionate approach to yoga. Please note this is a professional development training rather than a therapeutic workshop for personal healing.  All participants will receive pre-reading material, a manual and a certificate of completion. Yoga teachers registered with Yoga Alliance (US) are eligible for 20hr CEU.
ACCOMODATION.
This is a non-residential Yoga course and students are asked to book their own accommodation. You can choose from a great variety of accommodation (different budgets and needs) within a 5 min walk to a 10 min. drive from the Dawn Collective Shala / the beach. As this is a popular destination in summer we recommend to seek accommodation as early as possible. Please find further info and some recommendations here.
SURROUNDING -  ARRIFANA / ALJEZUR, PORTUGAL.
The Dawn Collective Shala (Google Maps) is located between the picturesque Arrifana Beach (2 km) and the little village Aljezur (7 km), where you will find everything you need like supermarkets, cafés & restaurants, bakery, organic shops and a charming local farmers market on saturdays.
The stunning and unspoiled beaches of Arrifana, Monte Clerigo and Amoreira allow for endless summer days & unreal sunsets. All beaches are easy to access and offer great surf conditions. The jungle-ish hinterland with magic forests of pine, eucalyptus and cork can be explored with nature walks, mountain bike or donkey/horse rides.

The Dawn Collective Shala has a wooden floor and catches the first rays of sun in the morning. Yoga mats, blankets and blocks are available as well as a big lawn to hang out after class, filtered water, tea and delicious espresso. Also massage treatments are available at the Dawn Collective Shala throughout the entire summer.
ABOUT MEI LAI SWAN.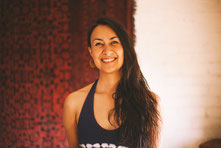 Mei Lai Swan is the Director of Yoga for Humankind, a social enterprise yoga school offering specialised trainings in trauma-informed and community yoga. It is here that she combines her life-long study of yoga and eastern philosophies with a professional background in community development and social work. 
Mei Lai is a senior certified Embodied Flow™ yoga teacher, certified Amrit Yoga Nidra and Level 1 iRest Yoga Nidra teacher. With a BA in International Development and a Master of Social Work, she has trained in somatic-based trauma therapy and counselling, and delivered a wide range of group work and community yoga programs, including programs for people from asylum seeking and refugee backgrounds, disadvantaged youth, mothers experiencing homelessness, and people experiencing chronic pain. She is the founder, previous CEO and ongoing board director of Birth for Humankind, a non-profit organisation providing free birth support to women in disadvantaged circumstances.
Originally from Melbourne, Australia, Mei Lai now travels extensively offering in-depth workshops, retreats and yoga teacher trainings with a special focus on somatic, trauma-informed and inclusive yoga, and sound (nada yoga) practices.
GETTING THERE AND GETTING AROUND
The closest international airports are Faro (1 hour 15 Min) and Lisbon (3 hours) - both are connected to Aljezur with excellent freeways. Most comfortable to get around & discover the area is a rental car - we recommend to book a rental from luzcar (operating from Faro).
Public transport: Rede-Expressos Bus drives daily from Lisbon straight down to Aljezur and on week days you can also get from Faro via Lagos to Aljezur - please find all bus- and train connections in the Algarve on this website. Mountainbikes, E-Bikes and Scooters can be rented nearby on a daily or weekly basis. 
Do you have a question? Please send us an Email - we are happy to help you at any time!