yogabija facilitates yoga retreats, workshops & teacher trainings. We offer nurturing experiences to enjoy a pause from daily routines. A genuine opportunity for continual growth. A safe & playful space that allows everyone to explore the rich diversity of life with curiosity & wonder. Bringing people together with the dedication to take steps towards more clarity, compassion and wholeness.
2023 DATES: SEPT. 05 - 10 | SEPT. 12 - 17 | ARRIFANA, PORTUGAL
Mysore Intensive Summer Program.
Join us for 1-2 weeks for a non-residential program at the Dawn Collective Shala. Sharing inspiring conversations on & off the mat in a community which can hold and give space for everyone's own experience. Cultivating a sense of belonging. Join us for a re-introduction, deepening or maintaining of your yoga practice. A transformative journey, plenty of swims in the ocean, heartfelt moments,  and  long summer nights read more
PRIVATES | ONLINE & IN-PERSON
1:1 Yoga Mentoring & Somatic Support Sessions.
In times of transition it is often valuable to have company on our journey for a little while. Supporting us to pause and come back to a sense of more balance and well-being. Annette believes that listening to the inherent intelligence of our bodies we can reconnect to our inner truth & guidance system. Annette draws from 25 years of yoga & meditation practices, stress-release-techniques and self-enquiry. Feel free to reach out to have a 15 min. discovery Zoom call to clarify questions and find out if this is what you need.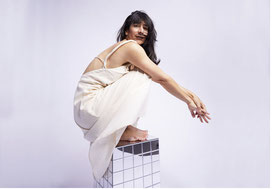 JUNE 12 - JULY  03, 2023  |  ONLINE CLASS  |  MONDAYS 7AM
Sing me awake - Sutra & Mantra Chanting Course.
The most profound & immediate effect of chanting is that it is lifting the mood, refreshes the soul and enhances clarity & concentration. In this course we will chant the Yoga Sutras (Chapter 1 & 2) as well as Bhakti Songs, Tantric Bija- & Shanti- Mantra. The course is offered 3-tiered for different levels of readiness & commitment read more
OCT 07 - 13  |  OCT 14 - 20   |  DEC 28 - JAN 03, 2024   |  ODECEIXE, PORTUGAL
Yoga & Meditation Retreat with Pink Elephant Cooking
Take a break from daily life´s challenges and join us for one week at the Herdade do Mar - a modern farm house with stunning ocean views & sunsets. Enjoy delicious vegan farm-to-table and yoga & meditation practices. This retreat is for everyone wishing to relax and find back into rhythm & flow  read more