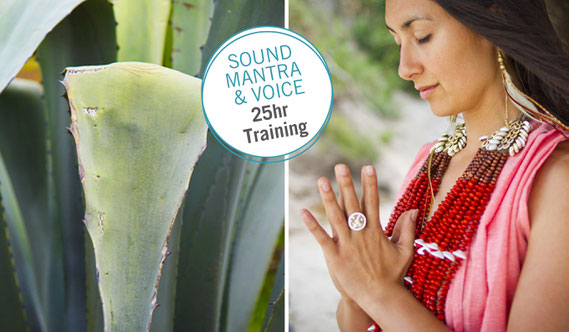 NEW DATE FOR 2020 WILL BE ANNOUNCED SOON  |  ARRIFANA, PORTUGAL
Yoga of Sound, Voice & Mantra Training with Mei Lai Swan.
"Anything is possible when we come together, with a common passion, purpose and heart."
Join us and the wonderful Mei Lai Swan for 3 days that will provide a comprehensive introduction to Nada Yoga - discover the nature and power of sound, voice and mantra, one of the most powerful tools that has been used for millennia in yoga and many other traditions for quieting the mind, accessing deeper states of consciousness, insight and awakening.
This Training is designed for yoga teachers, yoga practitioners, and all those curious about the power of sound for wellbeing and awakening.
DETAILS & SCHEDULE
What you will learn and discover: The nature and power of sound and mantra, drawing from yoga philosophy, mystic traditions and science. || An overview and exploration of sound practices from the vedic, tantric, bhakti and nada yoga traditions, to shift and awaken consciousness   ||  Embodied voice practices to free your voice and discover the mind-body-sound connection  ||  The connection between sound, silence and meditation  ||  The meaning and experience of Om  ||  Sanskrit pronunciation, mantras and chants  ||  Bhakti yoga and kirtan   ||  How to begin and/or deepen your own sound and mantra practice  ||  How to teach and integrate sound and mantra practices  ||  Supported home-based 40-day mantra sadhana (can be completed at a time that suits you)
Friday:  9.00 - 12.00 and 13.30 - 17.00.
Saturday: 9.00 - 12.00 and 13.30 - 15. 30. // 18.00 - 20.00 open Kirtan 
Sunday: 9.00 - 12.00 and 13.30 - 17.00.
Cost: 280 Euro includes a manual, recordings of mantras + supported 40-day mantra sadhana.
To sign up please use the Registration Form on the bottom of this page. The payment of the full course fee within 48 hours after registration will save your spot. 
Everyone is welcome - no prior experience required and you certainly do not need a 'good singing voice' – if you can breathe and speak you can experience the power of sound and your own voice! All participants will receive a certificate of participation. Yoga Alliance-registered  teachers will receive a 25 hour continuing education certification in the Yoga of Sound & Mantra.
ACCOMODATION.
This is a non-residential Yoga course and students are asked to book their own accommodation. You can choose from a great variety of accommodation (different budgets and needs) within a 5 min walk to a 10 min. drive from the Dawn Collective Shala / the beach. As this is a popular destination in summer we recommend to seek accommodation as early as possible. Please find further info and some recommendations here.
SURROUNDING -  ARRIFANA / ALJEZUR, PORTUGAL.
The Dawn Collective Shala (Google Maps) is located between the picturesque Arrifana Beach (2 km) and the little village Aljezur (7 km), where you will find everything you need like supermarkets, cafés & restaurants, bakery, organic shops and a charming local farmers market on saturdays.
The stunning and unspoiled beaches of Arrifana, Monte Clerigo and Amoreira allow for endless summer days & unreal sunsets. All beaches are easy to access and offer great surf conditions. The jungle-ish hinterland with magic forests of pine, eucalyptus and cork can be explored with nature walks, mountain bike or donkey/horse rides.

The Dawn Collective Shala has a wooden floor and catches the first rays of sun in the morning. Yoga mats, blankets and blocks are available as well as a big lawn to hang out after class, filtered water, tea and delicious espresso. Also massage treatments are available at the Dawn Collective Shala throughout the entire summer.
ABOUT MEI LAI SWAN.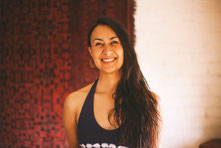 Falling in love with the path of self-inquiry and personal evolution in her teens, Mei Lai has been studying eastern philosophies and meditation for nearly 20 years, and yoga for 15 years.  A senior yoga teacher, Mei Lai is a certified Embodied Flow™ teacher, with years of study and practice in Ashtanga, Vinyasa and Anusara yoga. From Melbourne, Australia, but now based on the road, she teaches in-depth workshops, retreats and on international teacher trainings around the world, with a special focus on nada (sound) yoga, somatic and trauma-informed practices. 
She is now the director and lead teacher of "Yoga for Humankind", a yoga school and social enterprise specialising in trainings in contemporary hatha, trauma-informed and community based yoga. Mei Lai is registered with Yoga Alliance as an E-RYT500 and Continuing Education Provider (YACEP). You can find out more about her Mei Lai and her work on meilaiswan.com 
GETTING THERE AND GETTING AROUND
The closest international airports are Faro (1 hour 15 Min) and Lisbon (3 hours) - both are connected to Aljezur with excellent freeways. Most comfortable to get around & discover the area is a rental car - we recommend to book a rental from luzcar (operating from Faro).
Public transport: Rede-Expressos Bus drives daily from Lisbon straight down to Aljezur and on week days you can also get from Faro via Lagos to Aljezur - please find all bus- and train connections in the Algarve on this website. Mountainbikes, E-Bikes and Scooters can be rented nearby on a daily or weekly basis. 
Do you have a question? Please send us an Email - we are happy to help you at any time!