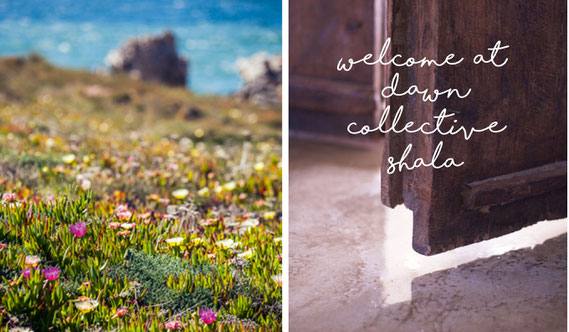 DAWN COLLECTIVE SHALA  |  ARRIFANA, PORTUGAL
Our new beautiful & sun-filled space close to praia da Arrifana is open to various holistic movements & practices which cultivate physical health & longevity, calm our busy minds and untie the knots around our hearts.
Everyone is welcome to join open classes & workshops with local and internationally renowned teachers who share their love for yoga & meditation, philosophy, chanting, aligment, wholesome nutrition, surfing and a green & conscious lifestyle.
JULY 15 - 26, 2019  | AUGUST 12 - 23, 2019  |  SEPT. 23 - OCT. 04, 2019
Mysore Intensive Summer Program with Annette Hartwig
Immerse yourself in ashtanga yoga with meditation, chanting & philosophy. Annette provides a nurturing, safe & supportive class environment  Continue reading
JUNE 14 - 16, 2019
Yoga of Sound, Voice & Mantra Training with Mei Lai Swan.
This delightful 25hr-Training provides a comprehensive introduction to nada yoga - the power and practices of sound, mantra & voice.  Continue reading
JUNE 21 - 23, 2019
Trauma-informed Yoga Workshop with Mei Lai Swan.
A professional development workshop providing an introduction to the principles & practices of trauma-informed and inclusive yoga teaching.  Continue reading
SEPTEMBER 09 -20, 2019
Ashtanga Yoga Workshop with Anna Rossow.
In two week-long workshops Anna will be sharing the love and beauty of Ashtanga Yoga in an open-minded and therapeutic way.
NOVEMBER 18 - 29, 2019
Ashtanga Yoga Workshop with Petri Räisänen & Wambui Njungana-Räisänen.
Petri & Wambui will be back for the second- join us for a peaceful yet energetic and meditative atmosphere at the Dawn Collective Shala Continue reading
ALL YEAR AROUND
Open Yoga classes & massage treatments.
Join us all in Arrifana / Aljezur for Ashtanga Yoga Mysore, Hatha and Flow classes and spoil yourself a massage. More info on the Dawn Collective Shala website.
LOCATION & SURROUNDING
The Dawn Collective Shala is located between the picturesque fishermen-village of Arrifana (2 km) and  Aljezur (7 km). The beautiful beaches & cliffs of Arrifana, Monte Clerigo and Amoreira are easy to access and in Aljezur you will find everything you need like supermarkets, cafés & restaurants, an organic shop and a local farmers market on saturdays. The closest international airports are Faro (1 hour 15 Min) and Lisbon (3 hours).
ACCOMODATION NEARBY
You can choose from a great variety of accommodation (different budgets and needs) within a 5 min walk to a 10 min. drive from the Dawn Collective Shala / the beach. As this is a popular destination in summer we recommend to book as early as possible. The best areas are Arrifana, Monte Clerigo, Vale da Telha, Espartal and Aljezur.
Here are a few recommendations (please indicate you are coming for the yoga):
Traditional & charming houses in the old town of Aljezur (10min drive from the shala). Please contact Nuno & Louisa:  www.carpe-vita.com.
Two beautifully designed apartments with ocean view, in walking distance to Monte Clerigo Beach (10min drive to the shala). Contact Fiona: www.beachhouse-clerigo.com. 
Beautiful rooms & great hospitality,  only 2 min. walk from the shala. Contact Marisa at www.casazuza.
Lovely, sustainable bed- and breakfast in Vales - 15 min. walk from the shala. Contact Paddy at www.arrifana-pines.com
Adorable guesthouse in the beautiful hinterland of Alfambras (20 min. drive to the shala). Contact Alexandra (engl. or german) via E-Mail  or fone +351 917461607.
PHILOSOPHY DAWN COLLECTIVE SHALA.
Ashtanga Vinyasa Yoga is the foundation of our path and our projects. All of our teachers have more than a decade of teaching experience and studied diligently with dedication for a long time with either a senior teacher of the Ashtanga Yoga method or directly with the late Sri K. Pattabhi Jois.  Each teacher genuinely shares his/her understanding and love of the yoga path with as much care & support to the individual student as possible. With all respect for the tradition we believe that the most valuable good is a safe and nurturing classroom environment that is not exclusively limited to a formal list. Therefore our Shala is hosting a rich diversity of incredible teachers: authorized, non-authorized and certified ones.