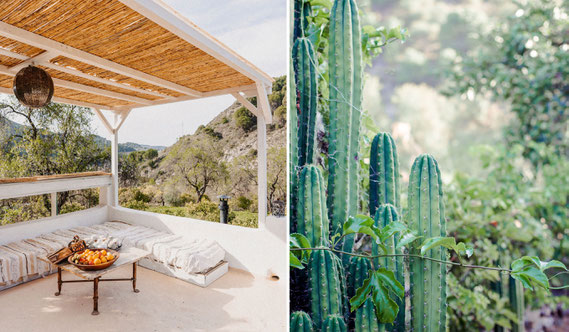 OCT 07 - 13, 2023  |  OCT 14 - 20, 2023  |  ODECEIXE, PORTUGAL
Ashtanga Yoga & Meditation Retreat with Annette Hartwig & Pink Elephant Cooking.
The Herdade do Mar is a modern yet rural oasis nestled in the unspoiled nature of Portugals Costa Vicentina. Far away from mainstream tourism you will wake up to the sound of the ocean and smell the sweet fragrance of pine trees & cistus plants. This charming eco-friendly property offers sophisticated living spaces spilling out onto wide terraces, a huge lake and saltwater pool with sea view as well as a huge fruit & veggie garden as well as animals like donkeys, goats and sheep.

During this week you can recharge, spent luxurious amounts of time at the widely spread property or the stunning nearby beaches Odeceixe, Amoeira or Monte Clerigo . Nourishing yourself with delicious, vegan farm-to-table food as well as daily yoga sessions, soundhealing  and relaxing massage treatments. Join us in a small group setting to find back into rhythm & flow and remember a state of wholeness & belonging. 
YOGA COURSE.
The morning sessions begin with embodied meditation & somatic exploration followed by chanting and soothing pranayama. The asana practice will include guided forms with different emphasis as well as opportunities to refine your Ashtanga Vinyasa Mysore Self-practice with individual support from Annette. All guided sequences are valuable for both beginners and advanced practitioners, weaving together contemplative, inner conversations as well as preparations & modifications for the more complex asanas with wonder and discovery.

Daily workshop sessions in the afternoon will complement the morning classes to enrich your practice with more joy, presence and sustainability. We will navigate through inner & outer landscapes with Restorative Yoga, Asana Refinement, Functional Mobility (FRC®), Stress Release techniques, Yoga Nidra, Mantra Chanting & Kirtan. You can expect more special surprises and class-themes during the week when you are here.

Everyone is welcome. Beginners, yoga practitioners of other styles as well as experienced mysore style practitioners. Come as you are. We want the real you - perhaps strong, curious, vulnerable, excited, a bit rusty or tired, well established or recovering from injury or other conditions. Classes will be held in german unless some participants only speak english. In this case, german translation is always available. Please reach out if you have any questions.
ABOUT ANNETTE.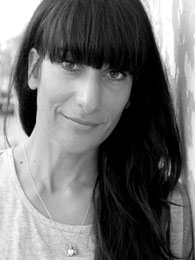 Annette Hartwig has been teaching Ashtanga Vinyasa yoga & meditation worldwide since 2001. She is a Yoga practitioner, MindBody-Therapy-Coach, Somatic-Stress-Release® practitioner and FRC® Mobility specialist. Annette has studied Vedic & Mantra Chanting at the Krishnamacharia Institute in Chennai and immersed herself in In-depth-training with Richard Freeman and is deeply inspired by the 18+ years relationship with her teacher Dena Kingsberg.

Annette's own practice and teaching embraces the dialogue between somatic exploration, sound & bhakti , movement & stillness. She believes that any small moment in itself can open a subtle, soft and profound healing space beyond any forms & boxes. Her emphasis is being lovingly present with our own vulnerabilities & strengths, shadows & radiant light to come back into the natural state of well being & belonging.  Revealing that the subtle has never left us and we are held in a delightful interconnected-ness of our individual and collective human experience.
ACCOMMODATION & SURROUNDING - ODECEIXE / ALJEZUR.
The Herdade do Mar is nestled in the middle of the Costa Vicentina Natural Park, surrounded by hills and valleys with cork oaks, pine trees and medronho. You have a stunning ocean view from the terrace, from the infinity saltwater pool as well as from the yoga-shala.  Along spectacular cliffs of the Rota Vicentina fisherman's trail you can walk from the Herdade do Mar in about 45 min. to the next small village Odeceixe with it's renowned beach, cafés & restaurants. Our all-time favourites Arrifana & Monte Clerigo are barely 25 minutes drive to the south and are also great for surf lessons and portuguese beach life.
Our new retreat location is a modern oasis. This charming eco-friendly property offers a haven away from the busy tourist areas, with sophisticated living spaces spilling out onto wide terraces. Its modern architecture and the beautiful minimalistic rooms are light and spacious. An open-plan kitchen and living room with sea view is just perfect for cosy evenings and delightful brunch & dinner conversations. Outside there is a large saltwater pool made of natural stones as well as a huge fruit and veggie garden as well as farm animals like goats, sheep and goose.
FOOD CATERING FROM PINK ELEPHANT COOKING.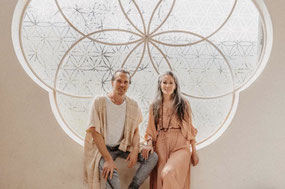 Our friends from Pink Elephant Cooking chop, bake, brew and mix a colourful and creatively balanced delicious plant-based farm to table cuisine. The generous brunch and a 3-course dinner are vegan and inspired by the region's wide selection of fresh ingredients and the passion for healthy and yummy food. The chefs also love yoga, so the meals are perfectly aligned with the practice: Full of energy, with intelligently combined ingredients and 100% organic. Water, coffee, tea and fruit are available throughout the retreat day. And: the Pinkies are always up for a chat and a giggle in the open-plan kitchen.
THE PORTUGAL YOGA RETREAT INCLUDES:
ACCOMMODATION & FOOD.
* 6 nights at the Herdade do Mar with sophisticated bright rooms and en-suite bathrooms, individual underfloor heating, soft bed-linen & hairdryer.
* Everyday delicious, vegan farm-to-table brunch and a 3-course dinner.
* Osmose-filtered water, tea, coffee & fruit available all day.
YOGA COURSE.
* Yoga classes from Saturday - Friday
* 6 morning-classes incl. embodied Meditation, Pranayama, guided Vinyasa forms & Ashtanga Mysore-Style
* 4 Workshop Sessions including Restorative Yoga, Asana Refinement, Functional mobility (FRC®), Stress release techniques & journaling, I AM Yoga Nidra, Mantra & Kirtan.
* All Yoga-Equipment (Mats, blocks and blankets) are available although we recommend to bring your own mat.
TOTAL COSTS.
EUR 1.390,-  in a Twin/Double room
EUR 1.675,- in a Single room
EUR 1.285,-  in a Triple room (only possible if you bring 2 friends)
Prices are per person.
Travel costs are not included.

Booking is available  in options:
1. Making a deposit of 475,- Euro with the registtration and pay the remaining paypment 3 months before the retreat starts.

2. Full payment with registration.

GETTING THERE.
Checkin: Saturday Oct 21st after 4pm. Welcome meeting & dinner 6pm
Classes: Sunday - Thursday
Checkout: Thursday 26th by 10am
The Herdade do Mar is located between Aljezur and Odeceixe, 10 min. drive from Odeceixe. Fly into Faro (1,5 hrs. away) and Lisbon (3 hrs. away) You can travel to Lisbon alternatively by train, via Paris & Irun.
Booking a rental car is advised if you like to be independent throughout your whole journey and wish to discover the surroundings and beaches. We recommend 
luzcar (operating from Faro). If needed, we can help organizing car-sharing amongst retreat participants.
Public transport from Lisbon to Odeceixe with Rede-Expressos-Bus. From Faro to Lagos with the EVA Bus or by train. From Lagos to Odeceixe with Rede-Expressos. You find an overview with all public transport services here. Please email us if you need assistance.
A transfer from Odeceixe Bus-Stop will be available on the Check-In day (10 Euro p/P one way) and needs to be booked via us.
OTHER ACTIVITIES.
* We will announce more special events and suprises for the new years celebration once the retreat has started.

* Free time to reflect, relax and simply be.

* Mesmerizing sunsets every evening over the atlantic ocean and the watching milky way in the clear sky.
* Stunning nearby beaches of Odeceixe, Amoreira, Arrifana & Monte Clerigo.
* Holistic massage treatment to float happily in time & space.
*Sharing cirlce, musik and dance.
* A surf-course or renting surf equipment

* Hiking on the Rota Vicentinas´ fishermen trail starting right at the Herdade do Mar.

* Sunbathing at the infinity-pool, the lake or exploring the vast nature on the property.
REGISTRATION.
We are delighted that you are joining us for the Ashtanga Yoga & Meditation Retreat . After you have submitted the registration you will receive an email with information &  bank details. Please allow up to 24 hrs. for an answer. Thank you. If there is any uncertainty about the course or travel, please feel free to write us.


Cancellations: In case we (yogabija) have to cancel the retreat we will refund your payment reduced only by 50,- euro for costs incurred. If you cancel your booking 6 weeks before the retreat  we will refund your payment reduced by 150 euro cancellation fee. No refunds will be offered for later cancellations. We highly recommend to get a travel insurance.

We are very much looking forward to having you here.