MODULE 01:  MAY 08 - 13  |  MODULE 02: SEPT. 05 - 10   |  MODULE 03: SEPT. 12 - 17
DAWN COLLECTIVE SHALA, ARRIFANA - PORTUGAL
Yoga Immersion 2023 with Annette Hartwig
Join me at the Dawn Collective Shala exploring the richness of yoga. Each 40 hr Immersion/Training  module is for students, practitioners or teachers who are curious to broaden their understanding of yoga and would like to enquiry more into a state of Being and discovering the Self. This course hopefully serves as a holistic and safe container for a transformative journey and heartfelt connection within the community. The foundation of the Immersion is Ashtanga Vinyasa and will weave in different techniques and to discover the poetry of somatics, movement & stillness.

The immersion will encourage you to listen with unwavering kindness to understand the language of your own body and your students bodies. Perceiving fluidity & strength in structures as an invitation to clarify what is needed to acknowledge, support & inspire yourself and each individual in the class. We as teachers, practitioners and as human beings need to practice holding space for ourselves in a welcoming and loving presence so that we can do it for others as well.

The modules are based on experiential not academic teaching. Acknowledging everyone's uniqueness and considering their needs, circumstances & choice. Beginning with being grounded in our personal Sadhana (practice) from where we dive into advanced skill-building sessions including refining observation, communication and adjustments, applied and functional anatomy, self care, regulation of the nervous system, effective sequencing, developing a meditation and mantra practice as well as finding your authentic and confident voice as a human and teacher.

Moving from a linear yoga structure to a sensory experience by understanding the practices of visualisation, somatics & embodiment. Building resources to meet our strengths & vulnaribilities. Finding softness in your practice and the teaching. Letting go of the fragmentation of our own being and the collective to step more fully into a world of interconnectedness. Reconnecting with creative potential within ourselves and remember a deep sense of belonging.
FOR WHOM - EVERYONE WHO WOULD LIKE TO...
+ deepen their path of self development and  the understanding on yoga.
+ teach and understand how to read their own & other bodies physically and energetically
+ take a break from teaching and reveive support and guidance from a senior teacher
+ be exactly how and where they are in this moment with a curious soul.
DATES, COST & SCHEDULE OF THE IMMERSION MODULES
The Immersion is embedded & runs at the same weeks as the Mysore Intensive Summer Program. On 6 mornings we will practice all together (2,5 hrs) asana, pranayama, meditation and chanting. The afternoon training sessions include lectures, discussions and group work. Each module consists in total of 40 hours training (32,5 contact hours at the Dawn Collective Shala and 7,5 hours self directed study time) and can be booked individually.

Daily Program
7.00am - 7.30 am Embodied Meditation, soothing Pranayama & Mantra Chanting
7.30 am - 9.30 am Self practice with optional guided forms
12.00 pm - 03.30 pm Lectures, discussion, group work

Tuition Cost
The Immersion modules are based on a 3-scaled pricing option to make it possible for more people to join this course. Included in the price are all teaching classes and a printed training manual. Not included are travel costs and accomodation.
Basic rate 520 Euro - for the ones in a financially uncomfortable place and will benefit from access supplemented by the community.
Sustainer rate 585 Euro - for the ones comfortable to pay fair value for the experience.
Supporter rate 650 Euro - for the ones with enough financial resources and a desire to support access for others.

The Immersion is taught in english with german translation available. If all participants speak german, the course language will be accordingly.
THE SEED - MODULE 01. MAY 08 - 13, 2023
– Rebuilding or deepening your Sadhana (Practice)
– Clarifying why you do what you do in regards to your practice and your teaching
– Effective sequencing (learning various class-structures and teaching a multi-level class)
– Modifications for recovery & preparations for complex poses. Use of props.
– Applied anatomy, functional movement & biomechanics (healthy & sustainable movement patterns, tissue adaptation) part 01
– Postural observation & adjustments skills on selected postures part 01
– Ashtanga and post lineage Ashtanga Yoga
– Moving from a linear yoga structure into a somatic, sensory experience
THE COCOON - MODULE 02. SEPT. 05 - 10, 2023
– Applied anatomy, functional movement & biomechanics (healthy & sustainable movement patterns, tissue adaptation) part 02
– Refinement of postural observation & adjustments skills on selected postures part 02
– Energetic observation skills & what it means to hold space as a teacher
– Detailed communication skills, building an internal library of creative language & resourceful cue-ing
– Finding your own authentic & confident voice as a teacher
– Discovering your natural (teaching) rhythm, pace and tone
– Self care, ritual and Intentions
INTO BEING - MODULE 03. SEPT. 12 - 17, 2023
– Building a personal meditation & mantra practice
– Visualisation, Somatics, Embodiment - what is it?
– The poetry of listening - understanding the potency of the subtle body and how it influences the gross body
– Integrating Pranayama & Meditation techniques in your daily practice
– How to enable a safe environment & inclusivity / Trauma-informed Yoga skills
– Poly-Vagal therapeutic Yoga & restoring & regulation of the nervous system
– Vedantic & tantric Philosophy & Chanting
– Patanjali Yoga Sutra Chapter 1 + 2 and exploring its application in practice and life
– Embodied Non violent Communication
– Increase trust and connection with your inner wisdom.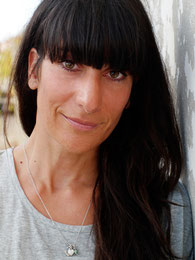 Annette Hartwig has been teaching Ashtanga Vinyasa yoga & meditation worldwide since 2001. She is a Yoga practitioner, MindBody-Therapy-Coach, Somatic-Stress-Release® practitioner and FRC® Mobility specialist. She is deeply inspired by the longterm relationship with Dena Kingsberg and has completed a 3 year Commited Practitioner Training (over 2000 hours) with her in Byron Bay.  Annette has studied Vedic & Mantra Chanting at the Krishnamacharia Institute in Chennai and immersed herself in In-depth-training with Richard Freeman, Clive Sheridan & Emil Wendel.

Annette's own practice and teaching embraces the dialogue between somatic exploration, sound & bhakti , movement & stillness. She believes that any moment itself can open a subtle, soft and profound healing space beyond any forms & boxes. Her emphasis in being lovingly present with our own vulnerabilities & strengths, the shadows & radiant light within. Revealing that the subtle-ness has never left us and we are held in a delightful interconnectedness of our individual and collective human experience.
ACCOMODATION / DAWN COLLECTIVE SHALA.
The Immersion is a non-residential course and every student is asked to book their own accomodation according to their wishes, needs & budget. As this is a popular holiday destination we highly recommend to book accomodation as soon as possible. If helpful, here are some recommendations for accomodation.
The little hippie-surf-town Arrifana is nestled inmidst the unspoiled nature of the Costa Vicentina Parc which deeply touches the soul & senses. This beautiful area is well know for its stunning beaches, great surf and a wild hinterland with impressive, old cork-forests and the infatuating smells of cistus plants and eucalyptus.
The Dawn Collective Shala is bathed in the first early morning light and has a beautiful wooden floor. Yoga mats & blocks as well as filtered water & fresh herbal tea are available for you before/after class. It is located between the picturesque beaches of Arrifana and Monte Clerigo ( both 2 km) and the little village Aljezur (7 km), where you will find everything you need like cafés & restaurants, bakery, organic shops and a charming local farmers market on saturdays.
GETTING THERE AND GETTING AROUND.
The closest international airports are Faro (1hr 15min) and Lisbon (3hrs) - both are connected to Aljezur with excellent freeways. The most comfortable way to get around and discover the area is a rental car. We recommend to book via Luzcar (operation from Faro)
Public transport: Rede-Expressos Bus drives daily from Lisbon straight down to Aljezur and on week days you can also get from Faro via Lagos to Aljezur - please find all bus- and train connections in the Algarve on this website.  Mountainbikes, E-Bikes & Scooters can be rented on a daily or weekly basis in Aljezur & Vale da Telha once you are here.
REGISTRATION.
We are delighted that you are interested in the Yoga Immersion with Annette Hartwig
If there is any question, please feel free to drop us a line.

After you have submitted the registration you will receive an email with information &  bank details. Please allow up to 24 hrs. for an answer. Thank you.