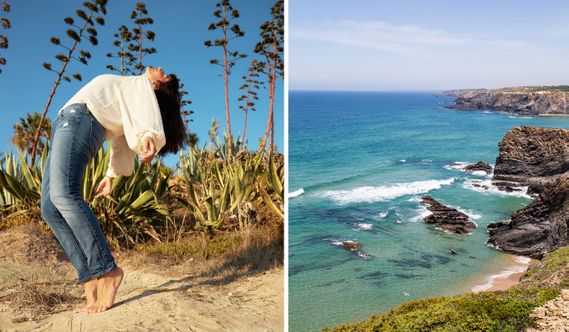 NEW DATES FOR 2023 SOON  |  PORTUGAL & GERMANY.
Yoga Immersion / Yoga Training with Annette Hartwig
This unique 45hr immersion at the Dawn Collective Shala is for yoga teachers & practitioners who are curious to broaden the experience of yoga & enrich their path of personal self development with explorational anatomy, refinement of observation skills, resourceful verbal cue-ing and non-invasive adjustments /assists. During full 9 days we will immerse ourselves into somatic practices with Asana, Meditation, Pranayama and Chanting.

Annette shares from more than 23 years of teaching Ashtanga & Vinyasa Yoga, Movement & Meditation in an undogmatic, empathetic and potent way. The 45hr immersion will allow for a space embracing holistic exploration, a transformative journey and heartfelt connection. It is an enquiry into being on all levels to untie the knots around our heart, mind and body.
The immersion will support you to find your own pace and authentic self expression as well as your language of the body. Exploring fluidity, strength and stiffness in structures as an invitation to clarify what is needed to support & inspire yourself and each individual in class. Practicing to hold space for ourselves, so that we then can do it for others. Letting go of the fragmentation of the collective and stepping more fully into a world of interconnectedness.

Course language is english (german translation available) unless everyone speaks german.
FOR WHOM.
Whether your desire is to deepen your practice or to teach yoga, the only way forward is via a thorough, experiential understanding of the practice of yoga. This immersion is based on experiential not academic teaching. It will very likely not provide answers but encourage conversations. It is for anyone:

+ who would like to deepen their path of self development and  the understanding on yoga.
+ who would like to teach and understand how to read their own and other bodies physically and energetically
+ who is already teaching and would like support and guidance from a senior teacher
+ who is open to be exactly how and where they are in this moment with a curious soul.

Please note that though it has all components of a training, it is not an accredited teacher training. It is a Sadhana Course that hopefully fuels your desire of exploring inner and outer landscapes with new eyes, a compassionate heart and full body and soul listening so that something more valuable then an accreditation can shine through.
COST & SCHEDULE MODULE 1: THE SEED.
The schedule includes 8 full morning practices (3 hrs) consisting of guided classes and Mysore Style with daily embodied meditations, Chanting rooted in the Vedic and Trantric traditions and pranayama from 6am -9am. And 6 afternoon workshop sessions (3,5 hrs) including lectures, discussions and group work from 12pm - 2pm and 2.15 pm -3.45pm

First class commences at 6am on Wednesday, Sept.28, 2022 and last class at 6am on Thursday, Oct. 6, 2022. During the 9 days training there will be one full day off.

The cost for Module 1 - the Seed - is 845 Euro. It can be paid either as a full amount or in two parts of 422,50 Euro each. Both ways it needs to be fully paid before the course starts.
I am happy to announce that there is 2 community-spots available for a reduced price of 625 Euro. Please reach out if you are burning for this immersion yet are limited in financial resources and would like to apply for a community-spot.

Included is all teaching classes and a printed training manual. Not included is the accommodation and travel costs.
THE SEED. MODULE 01.
Finding back into Rhythm // Practice & Teaching Skills part 1
- Clarifying why you do what you do in regards to your practice and your teaching and building a Sadhana (Selfpractice)
- Art of sequencing (structure of a class, multi-level class, Guided forms)
- Modifications for recovery & preparations for complex poses / Purpose and use of props
- Applied anatomy / healthy & sustainable functional movement patterns (FRC)
- Adjustments and assists on a number of different postures.

Outer landscapes // Body & Language Part 1
- Observation of different body types.
- How to read a body physically & energetically Part 1
- Sensitive Cue-ing and different styles of verbal assists.
- Moving from a linear yoga structure to a sensory experience
- Embodiment - what does it mean
- Safe environment. Inclusivity. Holding space.
- Personal development, confidence, voice, rhythm & tone / Self care & Self love.

Inner landscapes // Enquiry into philosophy Part 1, ethics, sound & stillness
- Yoga as a ritual & Sankalpa (intention setting)
- Ashtanga and post lineage Ashtanga (post modern yoga)
- Vedic & Tantric Chanting and Bhakti
- Intro to Samkhya, Vedanta & Patanjali Yoga Sutra
- Exploration of different Meditation techniques
- Pranayama to calm the nervous system
- Intro to Trauma-informed Yoga
ACCOMODATION / DAWN COLLECTIVE SHALA / GETTING THERE.
The Immersion is a non-residential course and every student is asked to book their own accomodation according to their needs. The beautiful town of Aljezur and the surrounding is offering a vast variety of accomodation in style and budget. Please find some recommended accommadation selection here.
The Dawn Collective Shala (Google Maps) is located between the picturesque Arrifana Beach (2 km) and the little village Aljezur (7 km), where you will find everything you need like cafés & restaurants, bakery, organic shops and a charming local farmers market on saturdays. The stunning and unspoiled beaches of Arrifana, Monte Clerigo and Amoreira allow for endless summer days & unreal sunsets. All beaches are easy to access and offer great surf conditions. The jungleish hinterland with magic forests of pine, eucalyptus and cork can be explored with nature walks, mountain bike or donkey/horse rides.

The spacious Dawn Collective Shala catches the first rays of sun in the morning and has a beautiful wooden floor. Yoga mats and blocks are available as well as a big lawn to hang out after class. Filtered water and fresh herbal tea are available for everyone. Massage treatments can be booked at the Dawn Collective Shala throughout the entire season.
The closest international airports are Faro (1hr 15min) and Lisbon (3hrs) -both are connected to Aljezur with excellent freeways. The most comfortable way to get around and discover the area is a rental car. We recommend to book via Luzcar (operation from Faro)
Public transport: Rede-Expressos Bus drives daily from Lisbon straight down to Aljezur and on week days you can also get from Faro via Lagos to Aljezur - please find all bus- and train connections in the Algarve on this website. 
Mountainbikes, E-Bikes and Scooters can be rented on a daily or weekly basis in Aljezur & Vale da Telha once you are here.
REGISTRATION.
We are delighted that you are interested in the Yoga Immersion with Annette Hartwig
If there is any question, please feel free to drop us a line.

After you have submitted the registration you will receive an email with information &  bank details. Please allow up to 24 hrs. for an answer. Thank you.