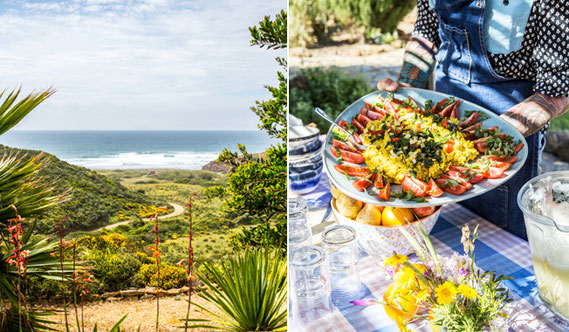 Workshops & classes with Annette Hartwig
ONLINE CLASSES 2022.
IN-PERSON WORKSHOPS 2022.
Wuppertal  October, 29 +30, 2022
The list will be updated regularly throughout the year with new workshops.
YOGA RETREATS & MYSORE INTENSIVES 2022.
IMMERSION / TRAININGS 2022.
Arifana, Portugal  | Sept. 28 - Oct. 06  Yoga Immersion
If you have a questions about the content of our programs, please drop us a line
We are looking forward meeting you in person somewhere on this planet.
ARCHIV YOGABIJA RETREATS, WORKSHOPS & MYSORE INTENSIVES.
2019
März Ashtanga Vinyasa Yoga Retreats in Leutasch Tirol, Österreich
Mai Yoga of Sound, Mantra and Voice Training mit Mei Lai Swan in Portugal
Mai Traum-informed Yoga Workshop mit Mei Lai Swan in Portugal
Juni Ashtanga Vinyasa Yoga & Meditation Retreat mit David Keil & Gretchen Suarez in Portugal
Juli Ashtanga Yoga Retreat mit Dena Kingsberg in Portugal

Juni - Oktober Mysore Intensives weeks with Annette Hartwig, Dawn Collective Shala /Portugal
2018
September Workshop mit Petri & Wambui Räisänen im Dawn Collective Shala,  Portugal
Juni - Oktober Mysore Intensives im Dawn Collective Shala,  Portugal
July Ashtanga Yoga Workshop with Anna Rossow at Dawn Collective Shala, Arrifana, Portugal
July Ashtanga Yoga Retreat mit Dena Kingsberg in Carrapateira, Portugal

July Ashtanga Yoga Retreat mit David Keil & Gretchen Suarez in Carrapateira, Portugal

Juni Ashtanga Yoga, Surf und Wholefoods Retreat in Sintra, Portugal
Mai Ashtanga Yoga, Surf und Wholefoods Retreat in Sintra, Portugal
März Ashtanga Vinyasa Yoga Retreat in Leutasch Tirol, Österreich
2017
Oktober Ashtanga Vinyasa Yoga & SuperWholefoods Retreat near Aljezur, Portugal
September Ashtanga Vinyasa Yoga & SuperWholefoods Retreat near Aljezur, Portugal
August Mysore Intensive in Aljezur, Portugal
Juli  Mysore Intensive Program in Aljezur, Portugal
Juli Ashtanga Yoga Retreat mit Dena Kingsberg in Carrapateira, Portugal

Juli Ashtanga Yoga Retreat mit David Keil & Gretchen Suarez in Carrapateira, Portugal

Juni Ashtanga Vinyasa Yoga & SuperWholefoods Retreat near Aljezur, Portugal
März Ashtanga Vinyasa Yoga Retreat in Leutasch Tirol, Österreich
2016
Oktober Ashtanga Vinyasa Yoga & SuperWholefoods Retreat near Aljezur, Portugal
September Ashtanga Vinyasa Yoga & SuperWholefoods Retreat near Aljezur, Portugal
August Mysore Intensive in Aljezur, Portugal

Juli  Mysore Intensive Program in Aljezur, Portugal

Juli Ashtanga Yoga Retreat mit Dena Kingsberg in Carrapateira, Portugal

Juli Ashtanga Yoga Retreat mit David Keil & Gretchen Suarez in Carrapateira, Portugal

Juni Ashtanga Vinyasa Yoga & SuperWholefoods Retreat near Aljezur, Portugal
Mai Ashtanga Vinyasa Yoga & SuperWholefoods Retreat near Aljezur, Portugal
April Ashtanga Vinyasa Yoga & SuperWholefoods Retreat near Aljezur, Portugal

April Mysore Intensive Program in Aljezur, Portugal

März Ashtanga Vinyasa Yoga Retreat in Leutasch Tirol, Österreich
2015
Oktober Ashtanga Vinyasa Yoga & SuperWholefoods Retreat near Aljezur, Portugal
September Ashtanga Vinyasa Yoga & SuperWholefoods Retreat near Aljezur, PortugalJuli Ashtanga Vinyasa Yoga Mysore Intensive Program in Aljezur, Portugal
Juli Ashtanga Yoga Retreat mit Dena Kingsberg in Carrapateira, Portugal

Juli Ashtanga Yoga Retreat mit David Keil & Gretchen Suarez in Carrapateira, Portugal

Juni Yoga & Surfen in Baleal/Peniche, Portugal
Juni Ashtanga Vinyasa Yoga & SuperWholefoods Retreat near Aljezur, Portugal
Mai Ashtanga Vinyasa Yoga & SuperWholefoods Retreat near Aljezur, Portugal
April Ashtanga Vinyasa Yoga & SuperWholefoods Retreat near Aljezur, Portugal

April Yoga & Permakultur Retreat in Aljezur, Portugal

März Ashtanga Vinyasa Yoga Retreat in Leutasch, Tirol Österreich

2014
Oktober Ashtanga Vinyasa Yoga Retreat in Carrapateira, Portugal

September Ashtanga Vinyasa Yoga Mysore Intensive Program in Carrapateira, Portugal

August Ashtanga Vinyasa Yoga Mysore Intensive Program in Carrapateira, Portugal

Juli Ashtanga Yoga & Meditation-Retreat mit David Keil, Gretchen Suarez, John Churchill,  Portugal

Juli Ashtanga Vinyasa Yoga Retreat with Dena Kingsberg in Carrapateira, Portugal

Juni Ashtanga Vinyasa Yoga Retreat in Carrapateira, Portugal

Juni Yoga + Surfen in Baleal/Peniche, Portugal

Mai Ashtanga Vinyasa Yoga Retreat in Carrapateira, Portugal

April Ashtanga Vinyasa Yoga Retreat in Carrapateira, Portugal

März Ashtanga Vinyasa Yoga Retreat in Leutasch Tirol, Österreich

2013
November Ashtanga Vinyasa Yoga Retreat in Carrapateira, Portugal

November Ashtanga Vinyasa Yoga Retreat with David Keil in Carrapateira, Portugal

Oktober Ashtanga Vinyasa Yoga Retreat in Carrapateira, Portugal

Sept. Yoga-Kletter Urlaub in Andalusien, Spanien
Sept. Mysore Intensive in Carrapateira, Portugal
August Mysore Intensive in Carrapateira, Portugal
Juli Ashtanga Vinyasa Yoga Retreat with Dena Kingsberg in Carrapateira, Portugal

Juni Ashtanga Vinyasa Yoga Retreat in Carrapateira, Portugal

Juni Yoga + Surfen in Baleal/Peniche, Portugal

Mai Ashtanga Vinyasa Yoga Retreat mit Ronald Steiner in Carrapateira, Portugal

Mai Ashtanga Vinyasa Yoga Retreat in Carrapateira, Portugal 
April Ashtanga Vinyasa Yoga Retreat in Andalusien, Spanien 
April Ashtanga Vinyasa Yoga Retreat in Carrapateira, Portugal 
März Ashtanga Vinyasa Yoga Retreat in Leutasch Tirol, Österreich

Februar Ashtanga Vinyasa Yoga Retreat in Goa, Indien 
2012
Oktober Ashtanga Vinyasa Yoga Retreat with David Keil in Carrapateira, Portugal

Oktober Ashtanga Vinyasa Yoga Retreat in Carrapateira, Portugal
September Yoga-Kletter Urlaub in Andalusien, Spanien
Juni Ashtanga Vinyasa Yoga Retreat with Dena Kingsberg in Carrapateira, Portugal
Juni Ashtanga Vinyasa Yoga Retreat in Carrapateira, Portugal 

Juni Yoga Surf Urlaub in Baleal/Peniche, Portugal
Mai Ashtanga Vinyasa Yoga Retreat in Carrapateira, Portugal
Mai Ashtanga Vinyasa Yoga Retreat in Andalusien, Spanien
Mai Yoga Kletter Urlaub Ashtanga in Andalusien, Spanien
April Ashtanga Vinyasa Yoga Retreat in Carrapateira, Portugal 

April Ashtanga Vinyasa Yoga Retreat in Carrapateira, Portugal
2011
November Ashtanga Vinyasa Yoga Retreat in Andalusien/Spanien
Oktober Ashtanga Vinyasa Yoga Retreat in Carrapateira, Portugal
September Yoga-Surf Urlaub in Baleal / Peniche, Portugal
September Yoga-Kletter Urlaub in Andalusien, Spanien
Juni + Juli Yoga-Surf Urlaub in Baleal, // Peniche, Portugal
Mai Ashtanga Vinyasa Yoga Retreat in Andalusien/Spanien
Mai Yoga-Kletter Urlaub in El Chorro, Andalusien
April Vinyasa Yoga und Adjustment Retreat in Le Marche, Italien
April Ashtanga Vinyasa Yoga Retreat in Le Marche, Italien
März Ashtanga Vinyasa Yoga Winter Retreat in Tirol, Österreich
2010
Oktober + November Ashtanga Vinyasa Yoga Retreat in El Palmar, Andalusien
September + Oktober Yoga und Surf Urlaub in Baleal, Portugal
September Yoga und Kletter Urlaub in El Chorro, Spanien
Juni Ashtanga Vinyasa Yoga Retreat in Kneese, Mecklenburg Vorpommern
April + Mai Ashtanga Vinyasa Yoga Retreat in El Palmar, Andalusien