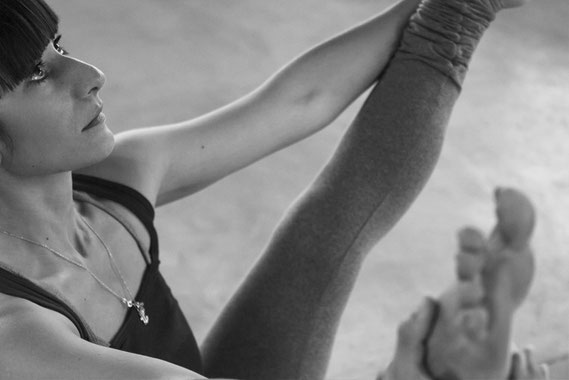 DÜSSELDORF, FEB. 12 - 16, 2021   |   MAGDEBURG,  FEB. 18 - 21, 2021
Mysore Intensive Workshop - Breath. Focus. Love.
This Workshop is for everyone wishing for more clarity and contentment. A 5-day journey to slow down, sense and breathe. Creating a warm loving relational field where we can broaden our capacity to listen, honor our needs & boundaries as well as purely celebrating our alive-ness. Through the lens of curiosity we can allow ourselves to be who we truly are. Revealing a peaceful state of non-doing and acknowledging the natural currents of life.

Each morning class starts with meditation & somatic exploration followed by breathwork & chanting. During the Mysore Style Practice each practitioner will receive individual support to enrich their practice with more joy, presence and sustainability.

The afternoon sessions will cover functional mobility (FRC®), actively extending and controlling end range of motion in our joints as well as introspection & contemplation through asana refinement. Yoga nidra, stress release techniques, journaling & self care, interactive philosophy talks & Sutra chanting will also flow into the afternoon sessions.

Pre-requesite: A familiarity with a self-practice is recommended for this 5-day journey.
Sample Schedule:
Wednesday - Sunday 7.00am - 9.30am Mysore Style, Meditation, Pranayama & Chanting
Saturday: 12.00pm - 3.30pm Functional Movement & Mobility. Asana Alignment.
Sunday: 10.30am - 2pm Stress release techniques. Interactive Philosophy Talk. Self-Care & Journaling. Yoga Nidra & Sutra Chanting
VERGANGENE TERMINE.
Düsseldorf Silke Hurtz, Februar 2020
München,  Ashtanga Yoga Institut, Februar 2020

Hannover, Anubhava Yoga /November 2017
Goslar, Maren Würkert / November 2017
Minden, Februar 2014
Münster, FlowYoga, November 2014
Hamburg, Monkey Mind Yoga, Februar 2014
Goslar, Aktiv Yoga / März 2013
Bremen, Yoma / März 2012
Münster, FlowYoga / März 2011
Hannover, Anubhava Yoga / Februar 2011
Goslar, Aktiv Yoga / Februar 2011
Goslar, Aktiv Yoga / Juli 2010
Bremen, Vinya Loft / Februar 2011
Bremen, Vinya Loft /Juni 2010