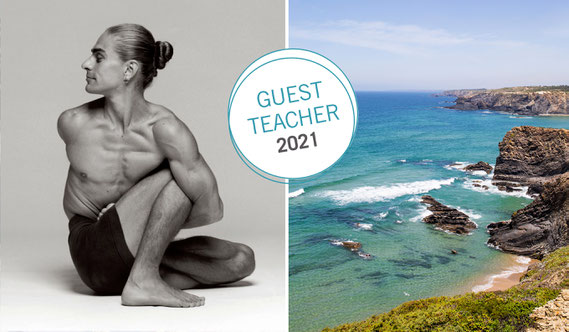 NOVEMBER 18-30, 2019  |  ARRIFANA, PORTUGAL
Ashtanga Yoga Workshop with Petri Räisänen & Wambui Njuguna-Räisänen.
Peaceful and energetic, creating a meditative atmosphere in the Ashtanga Yoga Mysore Room. Join us for a workshop with Petri and Wambui here at the Dawn Collective Shala in the Costa Vicentina Natural Park, one of Europe´s most stunning & untouched coastal regions. During this week-long workshop students of all levels are invited to explore and enjoy new depths in their practice under the guidance of these two incredible teachers.
 
Petri focuses on integrating healing and therapy with Ashtanga Yoga, meeting each student's individual needs and guiding their progress. Petri's hands-on adjustments are gentle, effective, therapeutic and, according to some, magical - they originate from his own practice & teaching as well as from his past work as a traditional finnish folk healer and naturopath.
SCHEDULE & DETAILS.
Monday - Friday. Starting Times: 6:30 // 08:15 // 09:45

Mysore Style: Accomodating & extending practitioners of all levels with Petris & Wambuis experienced, sensitive and insightful adjustments.
Tuesdays & Thursdays and Saturday & Sunday (Nov 23-24)  13:00 - 15:30
Thorough technical analysis, a therapeutic perspective on the practice as well as discussion about Ashtanga Yoga Philosophy, the history of different teaching styles & adjustments and the evolution of the asana sequences. How to observe the bodily issues during an adjustment and how to help the student to overcome these issues. Each class will end with a 30 min. guided pranayama & meditation, revealing the peace and power found within.
Wednesdays & Saturday 18:00 - 19:30
Meditation & Pranayama
Course fee
665 Euro :  Full workshop including 10 Mysore mornings Mo - Fri and all 9 workshop sessions.
175 Euro : Weekend only Nov. 23 - 24 incl. 2 Mysore mornings & 3 workshops.
To sign up please use the Registration Form on the bottom of this page. The payment of the full course fee within 48 hours after registration will save your spot.
ACCOMODATION.
You can choose from a great variety of accommodation for different budgets & needs within a 2-10 min. drive from the Shala / the beach. Searching websites like airbnb for the areas of Arrifana, Monte Clerigo, Vale da Telha, Espartal and Aljezur. Early booking is recommended.
SURROUNDING -  ARRIFANA / ALJEZUR, PORTUGAL.
The Dawn Collective Shala is located between the picturesque fishermen-village of Arrifana (2 km) and  Aljezur (7 km): This is the location on Google Maps where the Shala will open in June. The beautiful surf beaches & cliffs of Arrifana, Monte Clerigo and Amoreira are easy to access and in Aljezur you will find everything you need like supermarkets, cafés & restaurants, an organic shop and a charming local farmers market on saturdays.
The magical landscape of the Costa Vicentina Natural Park with vast sandy beaches, great surf and a djungelish hinterland allows for easy summer days & moments of deep relaxation. And in the Dawn Collective Shala you can also spoil yourself and book a massage treatment.
TEACHER.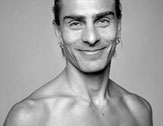 Petri Räsiänen started practicing Ashtanga Yoga 29 years ago and became a devoted student of his Guru, Sri K. Pattabhi Jois. He was authorized by Guruji to teach in 2001. Petri is careful to pass on his Guru's exact teachings, meeting each students individual needs and integrating healing and therapy. With his gentle approach and his intuitive perception he creates an open, energetic and meditative atmosphere in the Mysore room. Petri is an internationally recognized teacher since many years who is well-known for his calmness, charisma and magic touch.
Wambui Njuguna-Räisänen discovered the therapeutic benefits of Hatha Yoga in 1995 and has practiced ever since in complement to the various forms of dance and martial arts she has been involved in. Wambui is the editor for Petri's two books and she was introduced to Ashtanga Yoga in 2008 . After starting to teach in Helsinki in 2011 she continues to assist Petri internationally, following closely in the direct method of Sri K. Pattabhi Jois.
GETTING THERE AND GETTING AROUND
The closest international airports are Faro (1 hour 15 Min) and Lisbon (3 hours) - both are connected to Aljezur with excellent freeways. Most comfortable to get around & discover the area is a rental car - we recommend to book a rental from luzcar (operating from Faro).

Public transport: Rede-Expressos Bus drives daily from Lisbon straight down to Aljezur and on week days you can also get from Faro via Lagos to Aljezur - please find all bus- and train connections in the Algarve on this website. 
Mountainbikes, E-Bikes and Scooters can be rented on a daily or weekly basis in Aljezur & Vale da Telha.
REGISTRATION.
Please clarify availability & questions via E-mail before using this form!
After you have submitted the registration you will receive an email from us with further information &  bank details. Wait for our message before booking flights and don´t expect an instant reply as all our emails are 'hand-written'.
To save your spot the course fee needs to be wired within 48 hrs. If you cancel your booking before October 1st 2019, 80% of the course fee can be refunded - no refund with  later cancellations.
Do you have a question? Please send us an Email - we are happy to help you at any time!