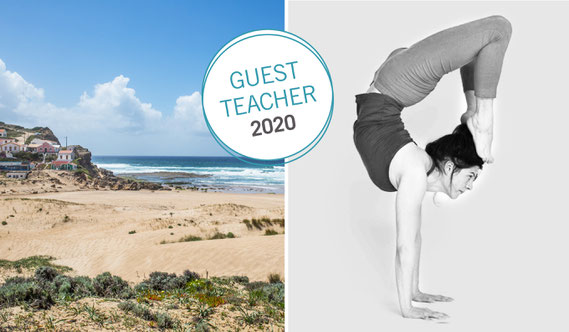 NEW DATES FOR 2020 WILL BE ANNOUNCED MID OCTOBER. |  ARRIFANA, PORTUGAL
Ashtanga Yoga Workshop Weeks with Anna Rossow.
We are delighted to welcome Anna Rossow here for a total of 2 weeks of Ashtanga Yoga Mysore Style Practice and 4 workshop sessions at the Dawn Collective Shala in the Costa Vicentina Natural Park, one of Europe´s most stunning & untouched coastal regions. Join us for a non-residential yoga holiday while enjoying lots of time on the beach with your family-loved-ones or fellow students.
Each morning begins with meditation and pranayama exercises followed by an Ashtanga Yoga Mysore Style Practice where Anna Rossow shares the Ashtanga Yoga method in an open-minded and therapeutic way. The Workshop sessions allow for more detailed alignment work.
SCHEDULE & REGISTRATION
Monday - Friday (Sep. 9-13 and Sept. 16 -20)
7.30 am - 8.15 am Meditation & Pranayama
8.15 am - 10.15 am Mysore Style

No Mysore practice on moon days. A complementary meditation practice will be offered.

Monday 9th, 11.00 - 13.30: Lines of Fascia and inner awareness.
In this Playground we go through some of the most obvious lines of fascial connection and see how they relate to our Yoga practice on various levels.
Thursday 12th, 11.00 - 13.30: Joyful Backbends & a calm nervous system.
Backbends do not only stretch the front and strengthen the back of your body, they genuinely open our heart. And we all know what this feels like: an ongoing smile, cotton candy in your head and a generous gratitude for the magic we are surrounded by. Learn in this workshop how to practice these energizing postures savely & with plenty of joy. Anna will also give an overview about the nervous system & the inner organs and how we can use this subtle awareness for our breathing & asana practice.
Monday 16th, 11.00 - 13.30: Shoulder girdle and armbalances.
This is a foundation building workshop for everyone interested in learning arm balances and inversions. Anna will explain in a very easy and practical way the movement of the shouldergirdle in order to develop a healthy strength, stability and good balance in basic asanas like downwardfacing dog & chaturanga as well as to take the first steps for more challenging and fun armbalancing postures. This workshop is for all levels so just show up with a willingness to try and see what can happen.
Thursday 19th, 11.00 - 13.30:  Bandhas, Breath & lightness in the practice
In this playground we find the inner awareness of the Bandhas and the Breath that guide us through our practice. This is how we find lightness even in the more challenging postures and float with grace in the vinyasas. Step by step we work ourself through to find for everyone the meaningful next inner challenge in the daily practice.
Course fee
480 Euro : Full 2 weeks Mysore incl. all 4 workshop sessions.
250 Euro : One week Mysore incl. 2 workshop sessions.
 
To sign up please use the Registration Form on the bottom of this page.
The course fee needs to be wired within 48 hours after registration to save a spot.
Everyone is welcome, from an established Mysore Style practitioner to a complete beginner. Beginners are asked to join for 2 weeks to facilitate the best possible understanding and a solid foundation of Ashtanga Yoga. Places will be given by the "first come first serve" principle. Classes will be held in english (german translation is available).
ACCOMODATION.
The Mysore Intensive is a non residential Yoga course and students are asked to book their own accommodation. You can choose from a great variety of accommodation (different budgets and needs) within a 5 min walk to a 10 min. drive from the Dawn Collective Shala / the beach. As this is a popular destination in summer we recommend to seek accommodation as early as possible. Please find further info and some recommendations here. 
SURROUNDING - ARRIFANA / ALJEZUR, PORTUGAL
The Dawn Collective Shala (Google Maps) is located between the picturesque Arrifana Beach (2 km) and the little village Aljezur (7 km), where you will find everything you need like supermarkets, cafés & restaurants, bakery, organic shops and a charming local farmers market on saturdays.
The stunning and unspoiled beaches of Arrifana, Monte Clerigo and Amoreira allow for endless summer days & unreal sunsets. All beaches are easy to access and offer great surf conditions. The jungle-ish hinterland with magic forests of pine, eucalyptus and cork can be explored with nature walks, mountain bike or donkey/horse rides.

The Dawn Collective Shala has a wooden floor and catches the first rays of sun in the morning. Yoga mats, blankets and blocks are available as well as a big lawn to hang out after class, filtered water, tea and delicious espresso. Also massage treatments are available at the Dawn Collective Shala.
ABOUT ANNA ROSSOW.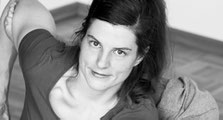 The daily practice of yoga keeps Anna on the path of introspection and inspiration. She has practiced Ashtanga Vinyasa Yoga in the tradition of Sri K. Pattabhi Jois for almost two decades. Anna feels very lucky having been able to learn from todays most respected teachers amongst others Richard Freeman, Nancy Gilgoff, Chuck Miller and Maty Ezraty. For years her regular teacher, Cole Dano in Finland, has guided her to find an optimal way of practice.

Anna is fascinated by the Method of Ashtanga Yoga which reveals the blind spots and knots of our body-mind connection. Besides Yoga she has learned osteopathy at the international academy of Osteopathy for over five years. With her precise eye Anna can guide each student to get out of unhealthy movement patterns and to built a rewarding and healing way to practice.
GETTING THERE AND AROUND - DAWN COLLECTIVE SHALA, PORTUGAL
The closest international airports are Faro (1 hour 15 Min) and Lisbon (3 hours) - both are connected to Aljezur with excellent freeways. Most comfortable to get around & discover the area is a rental car - we recommend to book a rental from luzcar (operating from Faro).
Public transport: Rede-Expressos Bus drives daily from Lisbon straight down to Aljezur and on week days you can also get from Faro via Lagos to Aljezur - please find all bus- and train connections in the Algarve on this website. Mountainbikes, E-Bikes and Scooters can be rented on a daily or weekly basis in Aljezur & Vale da Telha.
REGISTRATION FORM.
Please clarify availability & questions via E-mail before submitting the registration form.
After you´ve submitted the registration form you will receive an email from us with further information &  bank details. Wait for our message before booking  flights and don´t expect an instant reply as all our emails are 'hand-written'.
To save your spot the course fee needs to be wired within 48 hrs. If you cancel your booking before July 1st 2019, 80% of the course fee will be refunded. When cancelling later no refund will be paid.
Do you have a question? Please send us an Email - we are happy to help you at any time.