JULY 2 - 8, 2022  |  CARRAPATEIRA, PORTUGAL
Ashtanga Yoga Retreat with Dena Kingsberg & Jack Wiseman.
** WAITING LIST ** Please Magical eucalyptus and pine forests, sandy beaches and spectacular cliffs – the simple yet beautifully designed Monte Velho Nature Resort is located in a peaceful setting right in the heart of the Costa Vicentina Natural Park, the westcoast of the Algarve. This retreat is an invitation to explore the richness of Ashtanga Yoga while having enough space to enjoy the sun on the beach, go for a surf or just chill in the hammock on your terrace.
ASHTANGA VINYASA YOGA COURSE
Each morning will begin with quiet reflection and development of the breath. Followed by a combination of conducted and Mysore style classes which will accommodate and extend practitioners of all levels. The afternoon classes will support the morning practice and will cover fundamentals of asana, bandha, pranayama, yoga philosophy, chanting and stillness. Dena's authentic and holistic approach; inspire a passion for self-discovery and reflection.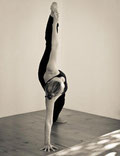 Dena Kingsberg has been studying and practicing traditional Ashtanga Yoga for more than 30 years. She is one of Sri K.Pattabhi Jois's most advanced female students. Having completed the fourth series in 1996 she has been certified by the Ashtanga Yoga Research Institute to teach this method. Jack and Dena were married by Guruji in 1997 and the path of motherhood has added a gentle compassion to Dena's disciplined yet lyrical style of teaching. Assisted by Jack, family warmth & love of the practice shine through to create a safe yet provoking class atmosphere.
ACCOMODATION & SURROUNDING - CARRAPATEIRA, PORTUGAL
Monte Velho Nature Resort is embedded in the unique landscape of the Costa Vicentina Natural Parc: an abundance of wild nature along the stunning atlantic coast with high cliffs, sandy beaches and secluded bays. The 30ha plot of land is located on a hill with 360 degree panoramic view overlooking the pine- and eucalyptus forests and the ocean. Plenty of spots to retreat, watching sunrise or sunset with only the sound of frogs and birds in the background… we find this place is truly special and full of magic.
The simple yet beautiful rooms (suites) are very spacious, each with a bedroom, a lounge-area and a bathroom. All suites have their own terrace or deck, with a daybed and hammock. After the yoga practice a delicious meal is waiting for you - the chef is passionate about yummy & healthy food. Besides plenty of love only the freshest local organic produce goes into the vegan & vegetarian meals.
On the nearby beaches Amado & Bordeira (only 10min drive away) you can enjoy the sun, take a long walk or surf a wave - surf lessons including board & wetsuit can be booked on the beach. Hiking and mountainbiking on the old fisherman trails along the cliffs or inland on the historical paths (Rota Vicentina) is a great adventure and in Monte Velhos Spa with sauna and steambath you can also spoil yourself and book a massage treatment.
RETREAT INCLUDES
* 6 morning mysore classes
* 4 afternoon classes with yoga philosophy and fundamentals of asana, bandha & pranayama
* 6 nights at Monte Velho Nature Resort
* fullboard healthy-delicious veg. catering
Checkin: Saturday July 02nd after 4pm. Welcome meeting & dinner 18:00.
Yoga: Sunday - Friday.
Ceckout: Friday 08th by 10:00.
COSTS
EUR 1.290,-  in a Twin/Double 
EUR 1.500,-  in a Single (ltd. availability)
EUR 1.080,-  in a 4-bed dorm
EUR 1.200,- in a 3 or 4 bed room (bring 2/3 friends)
Prices are per person. Full payment with registration saves a spot. Travel is not included. 
GETTING THERE
Flights: To Faro (1,5 hrs drive) or Lisbon (3,5 hrs. drive to Monte Velho).
Public transport & Taxi pickup are possible, however, we recommend to book a rental car which allows to discover the amazing beaches & offers flexibility on the whole journey. We can recommend luzcar (operating from Faro).
A pickup from Faro airport costs 110 euro, from Lagos 50 euro.  All bus- and train connections in the Algarve can be found here.
OTHER ACTIVITIES
* Enjoy the stunning nearby beaches Amado & Bordeira
* Book a surf course or hire board & wetsuit

* Hiking & Mountainbiking on Rota Vicentinas´ fisherman or historic trail

* Walking tracks or a swim in the lake on the
property
* Relax and unwind with Steambath, Sauna & Massage treatments at Monte Velho´s Spa
PLEASE EMAIL US IF YOU WISH TO GET A SPOT ON THE WAITING LIST.