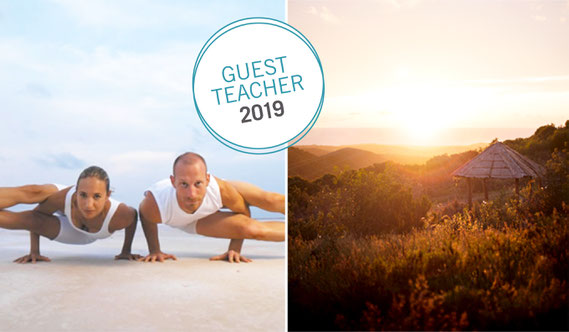 JUNE 29 - JULY 05, 2019
CARRAPATEIRA, PORTUGAL
Ashtanga Yoga and Meditation Retreat with David Keil & Gretchen Suarez.
Body relaxed, mind at ease - join us for this inspiring 6 day journey with David Keil & Gretchen Suarez in Portugal's beautiful southwest Alentejo! While allowing plenty of time to enjoy a delightful holiday on Europe's most stunning sandy surf-beaches this retreat smoothly integrates Ashtanga Vinyasa Yoga with Buddhist meditation, exploring the spiritual as well as the psychological perspective on the yogic practices.
ASHTANGA VINYASA YOGA COURSE
Each morning begins with a short sitting practice including meditation & breathing exercises which will be followed by an Ashtanga Yoga Mysore Style class. In three afternoon workshops, we´ll focus on deepening our relationship to breath, bandha and the way in which the practice can and should be used to cultivate mindfulness. There will also be plenty of time to look into applied yoga anatomy and gain a better understanding of the postures, the world of fascia and the body in movement. During this week David & Gretchen will not only encourage & support everyone to establish a complementary meditation routine but also explain the connection of our practice to psychology.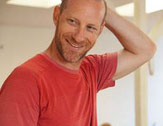 David Keil has an extensive background in bodywork and anatomy. He is well known for his amazing observation- and adjustment skills, which allow him to share techniques that will take you and your practice to the next level. He has a fun and informative teaching-style. With his anatomy-, adjustment- and Ashtanga Yoga workshops he has been travelling around the world for many years.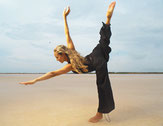 Gretchen Suarez has also been teaching yoga for almost 2 decades and studied with the late Sri K Pattabis Jois in Mysore. She is a psychotherapist & meditation teacher and emphasizes the mental, emotional and spiritual elements of yogic practices.
ACCOMODATION & SURROUNDING - CARRAPATEIRA, PORTUGAL
Monte Velho Nature Resort is embedded in the unique landscape of the Costa Vicentina Natural Parc: an abundance of wild nature along the stunning atlantic coast with high cliffs, sandy beaches and secluded bays. The 30ha plot of land is located on a hill with 360 degree panoramic view overlooking the pine- and eucalyptus forests and the ocean. Plenty of spots to retreat, watching sunrise or sunset with only the sound of frogs and birds in the background… we find this place is truly special and full of magic.
The simple yet beautiful rooms (suites) are very spacious, each with a bedroom, a lounge-area and a bathroom. All suites have their own terrace or deck, with a daybed and hammock. After the yoga practice a delicious meal is waiting for you - the chef is passionate about yummy & healthy food. Besides plenty of love only the freshest local organic produce goes into the vegan & vegetarian meals.
On the nearby beaches Amado & Bordeira (only 10min drive away) you can enjoy the sun, take a long walk or surf a wave - surf lessons including board & wetsuit can be booked on the beach. Hiking and mountainbiking on the old fisherman trails along the cliffs or inland on the historical paths (Rota Vicentina) is a great adventure and in Monte Velhos Spa with sauna and steambath you can also spoil yourself and book a massage treatment.

RETREAT INCLUDES
* 6 morning mysore classes, including meditation practice, all levels welcome
* 3 afternoon workshops with applied yoga anatomy and a pychological perspective on yoga and meditation.
* 6 nights accomodation at Monte Velho Resort
* full- board healthy-delicious veg. catering
Checkin: Saturday June 29th after 4pm. Welcome meeting & dinner at 6 pm.
Yoga: Sunday - Friday.
Checkout: Friday July 05th by 11:00 after yoga and breakfast.
COSTS
EUR    990,-  in a 4-bed dorm
EUR 1.080,- in a triple suite (bring two friends)
EUR 1.170,-  in a Twin or Double suite
EUR 1.410,- in a Single Suite (on request)
Prices are per person. Travel is not included. Payable with registration are 550 Euro. The remainder is due 2 months before the retreat.
GETTING THERE
Flights: To Faro (1,5 hrs drive) or Lisbon (3,5 hrs. drive to Monte Velho).
Public transport & Taxi pickup are possible, however we recommend to book a rental car which allows to discover the amazing beaches & offers flexibility on the whole journey. We can recommend luzcar (operating from Faro).
A pickup from Faro airport costs 100 euro, from Lagos 40 euro.  All bus- and train connections in the Algarve can be found here.
OTHER ACTIVITIES
* Enjoy in the sun on the nearby beaches Amado and Bordeira
* Book a surf course or hire board & wetsuit

* Hiking & Mountainbiking on Rota Vicentinas´ fisherman or historic trail

* Holistic Horseriding, walking tracks or a swim in the lake on the property
* Relax and unwind with Steambath, Sauna & Massage treatments at Monte Velho's Spa