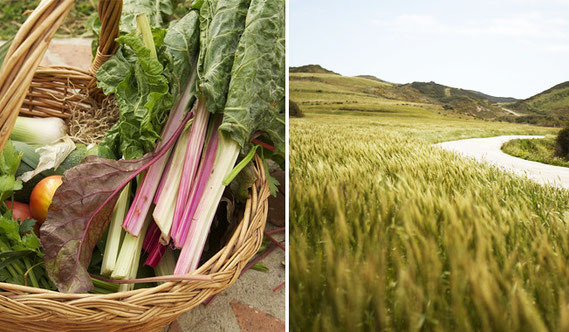 12. - 18. April 2015
Yoga & Permakultur Retreat in Portugal.
Come and join us for one week on a beautiful organic farm in the Algarve. Living closely with nature following permaculture´s ideas of sustainability perfectly complements our daily practice of Ashtanga Yoga. While enjoying all the comfort of this modern eco yoga retreat – delicious organic food from the farm, chilling out in the hammock, taking a plunge in the pool or a walk on the nearby beaches – this course is an invitation to reconnect to nature and to yourself, and become part of an inspiring local community.

ASHTANGA VINYASA YOGA COURSE.
Every morning starts with meditation, breathing-exercises and some chanting. On our retreats all levels are welcome – with a maximum of 15 students and two experienced teachers in the room both beginners and advanced practitioners (1. & 2. series) will be individually guided & supported.
2 afternoon workshops complement the morning-classes. Applied anatomy, yin yoga and therapeutic elements (e.g. back, knees, shoulders) create a better understanding for a technically sound and relaxed asana practice. More subtle aspects like yoga philosophy in relation to a modern lifestye, an introduction to vedic chanting and a non-dogmatic view on the relevance of other yogic methods are also part of the workshops.
Those being familiar with the mysore style practice will get plenty of inspiration and we´ll help you developing the more subtle aspects of your practice. Beginners to yoga and participants with experience in other styles of yoga will be gently guided into self-practice. Over the duration of the week a solid foundation of strength, flexibility and equanimity will develop with the possibility to enrich daily life: the learned sequence can be practiced back at home and in every Astanga Yoga studio.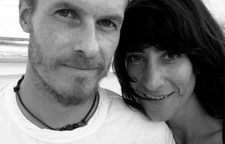 Annette Hartwig has been teaching Ashtanga Vinyasa Yoga for more than 15 years. With her experience and intuition she creates a warm class atmosphere where you feel nurtured yet challenged at the same time. She is inspired by the longterm guidance of her teacher Dena Kingsberg (certified by Sri K.P. Jois), regular trips to Mysore since 2001 and extensive studies with Richard Freemann. Besides being a student of Dena Kingsberg, Annette is assisting her regularly on international workshops and retreats. Daniel Schudt will be assisting in class, contributing with his knowledge as an experienced body worker and his passion for Yoga in the tradition of Pattabhi Jois and Krishnamacharya.
PERMACULTURE WORKSHOP.
Permaculture (a word coming from permanent agriculture & permanent culture) is a sustainable, practical and enjoyable way of approaching both food gardening and life in general. We are very excited to offer the possibility to learn about permaculture´s basic ethics & principles and how they are applied with our hands in the earth, designing a garden, planting and harvesting yummy organic fruit and vegetable.
Vale da Lama is internationally well known for it´s research and education in this field and during the 3-day introduction workshop we will explore the impressive project onsite with a guided tour and some theory but also go hands-on on the farm. This will be great fun and by the end of the workshop you'll know where to start back home with creating your own garden - even in an urban setting with only a windowbox, a balcony, or a patio you can start growing some of your own food.
ACCOMODATION & SURROUNDINGS VALE DE LAMA / LAGOS.
Casa Vale da Lama is a beautiful eco resort in the Algarve, close to Lagos and the atlantic ocean - a perfectly relaxing and inspiring environment for a week of Ashtanga Vinyasa Yoga. While enjoying all comfort of a retreat center we can become part of a modern organic farm and the community that works closely with nature and develops new techniques for sustainable farming and social living.
 
The comfortable & spacious ensuite guest rooms all have their own little terrace with a great view and access to the beautiful gardens and the saltwater swimming pool. Quinta Vale da Lama is a solar passive house where temperature is controlled by sunlight and firewood only, without any use of electricity and the delicious vegetarian food from the Sweet Spot Café is all organic and home-grown.
After practice and brunch doing nothing is a great plan, just relaxing in the hammock and enjoying nature. A walk walk to the beach takes only 20 min. and if you wish you can always get involved with all sorts of fun & interesting projects on the farm. Vale da Lama is close to Lagos with it´s cute old town center, the harbour and fantastic beaches. Surf Lessons can be organized onsite and excellent Massage treatments are available as well.

MOODS FROM THE RETREAT.

DATE: April 12th - 18th, 2015
YOGA COURSE: 370 EURO
* 6 morning classes à 2,5 Std.

  (Meditation, Pranayama, Mysore Style &
  guided classes)
* 2 afternoon workshops à 2 Std.
  (applied anatomy, yoga-philosophy, yin
  yoga, Introduction to vedic chanting)

Classes will be taught in English, German translation is always available.

ACCOMODATION, FOOD & PERMACULTURE WORKSHOP: FROM 480 EURO.
* 6 nights at Vale da Lama Eco Resort

* fullboard healthy-delicious veg. catering
* Permaculture Workshop (3 days à 3 hrs).

- in a shared double suite: 530 Euro
- in a single suite: 750 Euro
- in a triple suite: 480 Euro
Triple room is possible when you bring 2 friends. Prices are per person.Payable with registration 370 Euro, the rest 4 weeks before the retreat.
EXTRAS (BOOKED ONSITE)
* Massage Treatments (60 Euro)
* Private yoga classes (upon request)

OTHER ACTIVITIES
* Enjoy the sun on the beach (20 min. walk).

* Learn Surfing.

* Spoil yourself with a massage treatment.
* Hiking & Mountainbiking in the hinterland.

* Get involved with exciting projects on the farm.
* Visit old town of Lagos.

* Indulge in doing nothing at all.
GETTING THERE / GOOD TO KNOW
Checkin: Sunday April 12th after 3pm. Welcome dinner for everyone at 7:00 pm.
Yoga: Monday - Saturday.
Ceckout: Saturday 18th by 12:00 pm after yoga and breakfast.
Casa Vale da Lama is 10 min. from Lagos. Next airports are Faro (45 min.) / Lisbon (3 hrs.). From Lisbon you easily get to Lagos with the Rede-Expressos Bus. From Faro to Lagos by EVA Bus or by train.

A rental car allows you to discover more stunning beaches and offers flexibility on your whole journey to / from Vale da Lama Resort.
Do you have a question? Please send uns an Email - we are happy to help you at any time.