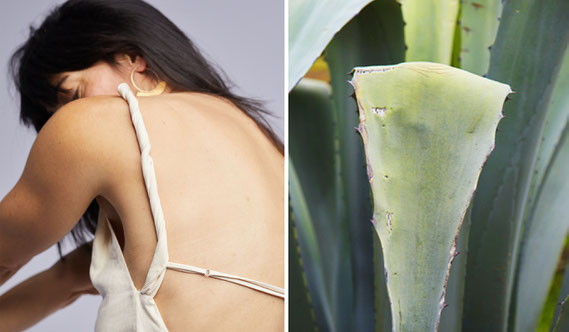 OCT 21 - 26, 2023  |  ODECEIXE, PORTUGAL
Embrace the Feminine - Holistic Women's Retreat with Lisa Burzin & Annette Hartwig.
Join us for the transformative journey at our exclusive women's retreat that is dedicated to stepping back into our feminine truth and empowerment. Annette & Lisa have created this profound and holistic experience to nurture our essence on all levels. Softening into the mystery of self  and the simplicity of being.  Reconnecting with your authentic voice & self-love and enjoying the support and the nourishing company of each other as endlessly intuitive, raw, poetic, messy, beautiful, soft and strong beings.

In the midst of our demanding everyday life it takes quite some time, courage, effort and willpower to take a well deserved rest while juggling countless responsibilities as female entrepreneurs, a modern woman, as a mother, daughter or as a wife. It is almost like we are obsessed with producing and doing. With being strong and being the backbone of our families and our own life.
And yet, so much we lack these nourishing healing spaces to reconnect with our bodies, to explore and celebrate the deep roots of our feminine truth that guides us back into inner the wisdom of intuition, creativity and sensuality.

The Herdade do Mar is a modern yet rural oasis nestled in the unspoiled nature of Portugals Costa Vicentina. Far away from distractions we will wake up to the sound of the atlantic ocean, feel the the salty air and smell the sweet fragrance of pine trees, cistus plants and other native plants.

This charming eco-friendly property offers sophisticated living spaces spilling out onto wide terraces, a huge natural swimming lake and an infinity saltwater pool with sea view and is truly a special place with its healing presence of many animals like donkeys, goats and mini pigs and rabbits  as well as an abundant fruit & veggie garden.

NOURISHING HOLISTIC PRACTICES.
Hopefully we can create a safe space that reveals this beauty we always and already hold within us as women, friends, mothers, daughters, wives, lovers, goddesses and doulas of ourselves. Prioritising time for self discovery, reflection, rest and a sustainable self-care practice that is guiding you towards a vibrant and fulfilling life. Nourishing hearts & souls.

You can expect:
- guided and silent Meditation & Chanting Circles
- warming Yoga Flow & Sweaty Pilates Dance classes
- relaxing Yoga Nidra and Embodiment practices
- Gua-Sha Workshop
- Intention Setting Workshop
- Free movement & dance
- Moon Cycle awareness & Nutrition
- Women's health & Life Coaching & holistic Massage treatments (to be booked extra)
- Cacao Ceremony & Soundscapes

We will rise with the warming first october sunlight. The mornings will start with gentle meditations, breathing, silence, chanting, journaling and will continue into reconnecting with our bodies via contemporary yet slow Yoga Flow, Pilates Dance and embodiment practices inviting an aliveness and fostering a sense of grounded-ness and clarity.

In the afternoon we will come together again for workshops on Gua-Sha, free movement & dance as a container for self-expression and liberation, Yoga Nidra for deep relaxation and rejuvenation, meaningful conversations and cacao ceremony & singing to feel the depth of our heart and embrace our own unique creative voice, allowing it to flow freely and manifest in beautiful, tangible creations. All Classes will be held in german. Please reach out if you have any questions.

Holistic massage treatments will be available throughout the retreat. In addition, Annette will be available for 1:1 Somatic Release Coaching Sessions nurturing a holistic body-mind connection and emotional well being. Lisa shares in her 1:1 coaching sessions an awareness for the mooncyle, lifestyle and nutrition guidance as well as general women's health.
ABOUT THE FACILITATORS LISA BURZIN & ANNETTE HARTWIG.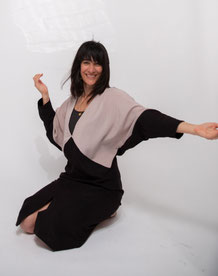 Annette Hartwig  is a Mind-Body Therapy Coach, Somatic Stress Release Practitioner, FRC® Mobility Specialist and has been teaching Yoga & Meditation since 2001 in Europe and abroad.

Annette's warm and generous teaching style is influenced by her own continous self-exploration process, the intensive teaching of Ashtanga Vinyasa Yoga and meditation for over 23 years and her deep search for belonging & intimacy. Out of a desire to push the boundaries of the known, she is fascinated by the wild and raw language of our souls, the individual somatic re-organisation of our bodies. She has a deep appreciation for yogic, mystical traditions, philosophy and other interdisciplinary contemporary modalities. She weaves these in a simple, direct and poetic way into an interesting web of possibilities in which the more subtle awareness of the yoga practice can naturally unfold - reveiling a  state of wholeness and flow.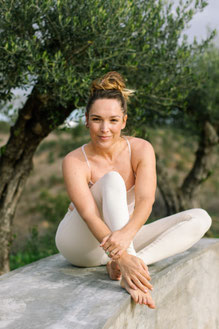 Lisa Burzin is a certified Yoga & Pilates teacher, GfG certified doula, women's health specialist and mother of three. As a Women Health Coach she supports women to get and stay in balance. Lisa creates individual plans for body and soul in her 1:1 coaching sessions and online programmes. She regularly teaches Yoga & Pilates. Lisa also coaches women during pregnancy, birth and postpartum. The approach is always holistic.

Since 2017, she has been hosting retreats across Europe that include a combination of yoga, Pilates and all her knowledge on women's health for a lasting effect. It is the essence of the tools that she knows from her own experience and that have proven themselves in her years of working with other women. Lisa lives in Lisbon and coaches women locally and worldwide.  


ACCOMMODATION & SURROUNDING - ODECEIXE / ALJEZUR.
The Herdade do Mar is nestled in the middle of the Costa Vicentina Natural Park, surrounded by hills and valleys with cork oaks, pine trees and medronho. You have a stunning ocean view from the terrace, from the infinity saltwater pool as well as from the yoga-shala.  Along spectacular cliffs of the Rota Vicentina fisherman's trail you can walk from the Herdade do Mar in about 45 min. to the next small village Odeceixe with it's renowned beach, cafés & restaurants. Our all-time favourites Arrifana & Monte Clerigo are barely 25 minutes drive to the south and are also great for surf lessons and portuguese beach life.
FOOD CATERING FROM MARIA GONZALEZ.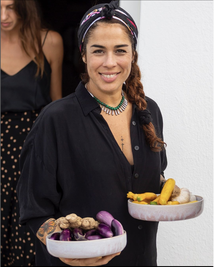 Maria is orginally from Venezuela with family roots of a portugese immigrant family. She grew up in the back of the family's restaurant kitchen and sharing food was always imprinted in her from a very young age, especially sharing love through food. She is mother of two gorgeous daughters and rocks the kitchen like no other. Maria's food has no traditional boundaries, she loves to mix and  play with ingredients and the result is  flavourful and evocative food, working with simple techniques and touching peoples hearts.
She will create a full food experiences to remember and complete our retreat with delicious & generous brunch as well as a plated wholesome vegetarian/vegan 3-course dinner which is inspired by the region's wide selection of fresh ingredients and the passion for healthy, creatively balanced delicious plant-based cuisine. Filtered and infused water, coffee, tea and fruit are available throughout the retreat day. And: Maria is always up for a chat and a giggle in the open-plan kitchen.
THE "EMBRACE THE FEMNINE " WOMEN'S RETREAT IN PORTUGAL INCLUDES:
ACCOMMODATION & FOOD.
* 5 nights at the Herdade do Mar with sophisticated bright rooms and en-suite bathrooms, individual underfloor heating, soft bed-linen & hairdryer.


* Everyday delicious, vegan farm-to-table brunch and a 3-course dinner.

* Reverse-Osmosis-filtered water, tea, coffee & fruit available all day.

Checkin: Saturday Oct 21st after 4pm. Welcome meeting & dinner 6pm
Classes: Sunday - Thursday
Checkout: Thursday 26th by 10am
RETREAT COURSE.
* 5 morning-classes incl. embodied Meditation, Pranayama, guided Vinyasa Yoga and Pilates Dance.
* 2 afternoon workshop sessions including Restorative Yoga, Gua Sha, Mooncycle awareness, free movement & dance, Cacao Ceremony & Soundscape, Stress release techniques & Journaling, I AM Yoga Nidra,

* All Yoga-Equipment (Mats, blocks and blankets) are available although you are very welcome to bring your own mat.
TOTAL COSTS.
EUR 1.330,-  in a Twin/Double room
EUR 1.690,- in a Single room
EUR 1.175,-  in a Triple room (only possible if you bring 2 friends)
Prices are per person and
travel costs are not included.

The booking is available  in options:


1. Making a deposit of 550,- Euro with the registration and pay the remaining payment 2 months before the retreat starts.
2. Full payment with registration.

GETTING THERE.
The Herdade do Mar is located between Aljezur and Odeceixe, 10 min. drive from Odeceixe. Fly into Faro (1,5 hrs. away) and Lisbon (3 hrs. away) You can travel to Lisbon alternatively by train, via Paris & Irun.
Booking a rental car is advised if you like to be independent throughout your whole journey and wish to discover the surroundings and beaches. We recommend 
luzcar (operating from Faro). If needed, we can help organizing car-sharing amongst retreat participants.

A Taxi pick up from Faro or Lisbon airport can be arranged by us.
Lisbon Airport > Retreat Odeiceixe: 320 Euro
Faro Airport > Retreat Odeiceixe: 140 Euro
Please let us know if you are interested.
Public transport from Lisbon to Odeceixe with Rede-Expressos-Bus. From Faro to Lagos with the EVA Bus or by train. From Lagos to Odeceixe with Rede-Expressos. You find an overview with all public transport services here. Please email us if you need assistance.
A transfer from Odeceixe Bus-Stop will be available on the Check-In day (10 Euro p/P one way) and needs to be booked via us.
OTHER ACTIVITIES.
* Free time to reflect, relax and simply be.

* Mesmerizing sunsets every evening over the atlantic ocean and the watching milky way in the clear sky.
* Stunning nearby beaches of Odeceixe, Amoreira, Arrifana & Monte Clerigo.
* Holistic massage treatment to float happily in time & space.
*Sharing cirlce, musik and dance.
* A surf-course or renting surf equipment

* Hiking on the Rota Vicentinas´ fishermen trail starting right at the Herdade do Mar.

* Sunbathing at the infinity-pool, the lake or exploring the vast nature on the property.
REGISTRATION.
We are delighted that you are joining us for the Embrace the Feminine Retreat . After you have submitted the registration to us, you will receive an email with information &  bank details. Please allow up to 24 hrs. for an answer. Thank you. If there is any uncertainty about the course or travel, please feel free to write us.

Cancellations: If you cancel your booking 6 weeks before the retreat  we will refund your payment reduced by 150 euro cancellation fee. No refunds will be offered for later cancellations. We highly recommend to get a travel insurance and/or Course-fee-insurance.
In the unlikely case we (yogabija) have to cancel the retreat due to higher forces, we will refund the whole payment rminus 50,- euro administrative fees.

We are very much looking forward to having you here.
Annette & Lisa