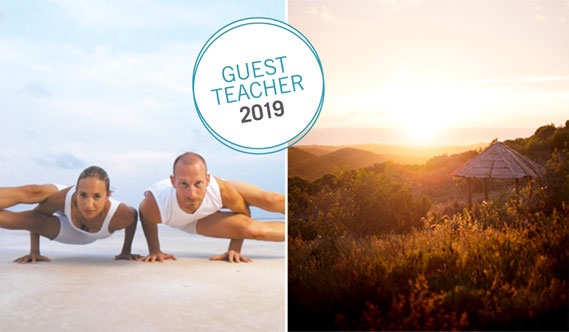 NEW DATE 2017: July 1 - 7. Registration opens soon.
Ashtanga Yoga Retreat with David Keil & Gretchen Suarez in Portugal.
Come with us and enjoy one week of Ashtanga Yoga with David Keil & Gretchen Suarez in Portugal's beautiful West-Algarve. This retreat is an opportunity to dive deeper into the practice of Ashtanga Vinyasa Yoga while having a holiday at the same time - Monte Velho Nature Resort is located in a peaceful setting with fantastic ocean views in the middle of the San Vicente natural park with sandy surf-beaches and spectacular cliffs.
ASHTANGA VINYASA YOGA COURSE.
Each morning will start with some moments of silence and gentle breathing exercises followed by Ashtanga Yoga Mysore Style Practice. In the small group each student will be individually supported. Three afternoon classes will focus on deepening your relationship to breath, bandha and the Vinyasa count. We also take time to gain a better understanding of the postures and the human body so you can intelligently move forward even in more difficult asanas. Classes will be taught in english. All Levels are welcome!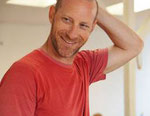 David Keil has an extensive background in bodywork and anatomy. He is well known for his amazing observation- and adjustment skills, which allow him to share techniques that will take you and your practice to the next level. He has a fun, informal and informative style of teaching. With his anatomy, adjustment, and Ashtanga Yoga workshops he has been travelling around the world for many years. David will be accompanied by his partner Gretchen Suarez – both are deeply rooted in the tradition of Ashtanga Vinyasa Yoga and authorized to teach this method by Sri K Pattabhi Jois and R Sharath Jois.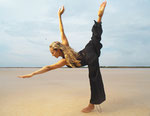 Gretchen Suarez has been teaching yoga for over 15 years and has dedicated her life to help people develop positive coping skills to better manage stress and increase well-being. In her own quest for balance and contentment she started studying meditation and Ashtanga Yoga. She studied with the late Sri K Pattabis Jois in Mysore who authorized her to teach this method. Gretchen graduated with her Masters in Psychology in 2013 and is a RMHCI. She works with clients in a psychotherapeutic environment offering a unique blend of eastern and western therapeutic techniques.
ACCOMODATION &SURROUNDINGS CARRAPATEIRA, PORTUGAL.
The retreat venue Monte Velho Nature Resort is embedded in the unique landscape of San Vicente natural park: an bundance of wild nature along the stunning atlantic coast with high cliffs and sandy beaches. The 30ha plot of land is located on a hill with 360 degree panoramic view overlooking the pine- and eucalyptus forests and the ocean. Plenty of spots to retreat, watching sunrise or sunset with only the sound of frogs and birds in the background… we find this place truly special and full of magic.
The resorts simple yet beautiful rooms (suites) are very spacious with bedroom, living-room (2 more optional beds) and bathroom. Each suite has it´s own terrace with daybed and hammock. After the yoga practice a delicious meal is waiting for you - our chef is passionate about yummy healthy-yogic food. Besides plenty of love only the freshest local organic produce goes into the vegan & vegetarian meals.

At the nearby beaches "Amado" and "Bordeira" (just 10min drive away) you can enjoy the sun, take a long walk or surf a wave (material & surf lessons can be booked locally). Hiking and mountainbiking on the old fisherman trails along the cliffs or inland on the historical paths is a great adventure and in the Monte Velho Spa with sauna and steambath you can also spoil yourself and book a massage treatment.

MOODS FROM THE PAST RETREATS.

YOGA COURSE: 550 EURO
6 morning classes
 * mindful medition practice, breath awareness
   & development of ujaii breath.
 * Mysore Style practice
3 afternoon classes:
 * deepening the understanding of bandhas, 
    breath and vinyasa count

 * yoganatomy elements to better understand
   the moving body in asana. Moving forward in
    difficult postures.
  * basic concentration / meditation techniques
All classes being taught English by David Keil & Gretchen Suarez.
ACCOMODATION & FOOD: FROM 590 EURO
* 6 nights at Monte Velho Nature Resort
* fullboard healthy-delicious veg. catering
in a shared double suite: 590 Euro
in a single suite: 820 Euro
in a triple suite: 500 Euro
Single Room availability is limited. Triple room is possible when you bring 2 friends. Prices are per person.Payable with registratioin 600 Euro, the rest 4 weeks before the retreat.
EXTRAS (BOOKED ONSITE)
* Massage Treatments & Sauna

* Holistic Horseriding
* Surf Lessons
OTHER ACTIVITIES
* Enjoy the sun on Amado / Bordeira Beach
* Learn Surfing (courses booked locally)
* Steambath & Sauna at Monte Velho Spa
* Spoil yourself with a massage treatment
* Hiking & Mountainbiking on the Rota Vicentina
* Holistic Horseriding
* Take a walk on the many paths of the 
   property
* Go for a swim in the lake
* Indulge in doing nothing at all
GETTING THERE / GOOD TO KNOW
Checkin: Saturday July 1st after 4pm. Welcome meeting & dinner for everyone at 6:30 pm.
Yoga: Sunday - Friday.
Checkout: Friday July 7 by 12:00 pm after yoga and breakfast.

Flight: To Faro (1,5 hrs drive) or Lisbon (3,5 hrs drive to Monte Velho).

A rental car allows to discover the stunning beaches and offers flexibility on your whole journey to / from Monte Velho Nature Resort.
Public transport / Taxi Pickup: Go to Lagos by Rede-Expressos BUS or EVA-BUS. A pickup from Lagos (40 euro) or from Faro airport (100 euro) can be arranged.
Pleas ask us - we are happy to help you organize your journey and can also recommend places to stay before and after the retreat!
Do you have a question? Please send uns an Email - we are happy to help you at any time!