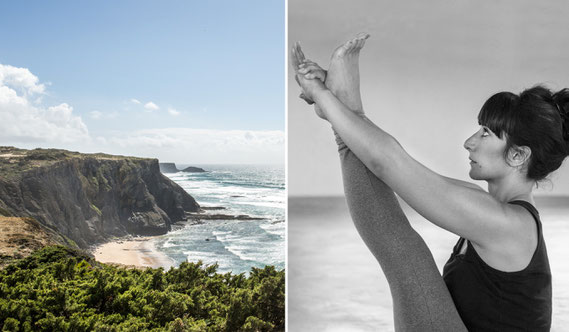 DATES FOR 2024 TBA SHORTLY
DAWN COLLECTIVE SHALA  |  ARRIFANA, PORTUGAL
Mysore Intensive summer program with Annette Hartwig
The Mysore Intensive summer program offers a delightful and safe space for reflection, contemplation, feeling and growth.  Curiously exploring the relationship of yoga through embodied asana, somatic meditation, pranayama and chanting. Finding more softness & equilibrium in your yoga practice. Unraveling the spaciousness of your being and untying the knots around our hearts so that we can relax back into a state of wholeness and remember a deep sense of belonging.
Annette shares from 23 years of practicing and teaching Ashtanga Vinyasa Yoga and offers a nurturing and gentle class environment where you receive individual support to enrich your practice with more joy, awareness and sustainability. The Asana practice will be partly guided and will lead into everyone's individual self practice. The foundational style will be Ashtanga Vinyasa but any other style and variations are fully encouraged and supported. Let us together as a community embrace inspiring conversation on & off the mat where we can give acknowledgement everyone's individual experience.

The little hippie-surf-town Arrifana is nestled inmidst the unspoiled nature of the Costa Vicentina Parc which deeply touches the soul & senses. This beautiful area is well know for its stunning beaches, great surf and a wild hinterland with impressive, old cork-forests and the nfatuating smells of cistus plants and eucalyptus.
SCHEDULE
The Mysore Intensive summer program is a non-residential Yoga course and students book their own accommodation according to needs and budget (see further below for a list of Acoomodation).
Daily Program
7.00am - 7.30 am Embodied Meditation, soothing Pranayama & Mantra Chanting

7.30 am - 9.30 am Self practice with optional guided forms

On moondays an alternative practice will be offered based on a holistic view. Additionally there will be some extra and optional afternoon activites like Kirtan, Yoga Nidra, Sound-Healing & Sunset-Walks which will be announced when you are here.

Everyone is welcome. Just come as you are: beginners, yoga practitioners of other styles as well as experienced Mysore style practitioners. We want the real you - a bit rusty, curious, well established and flying or recovering from injury or other conditions. Classes will be held in english. If needed german translation is always available. Please reach out if you have any questions.
TUITION.
The 6-day-Mysore Intensive is offered in a sliding scale format. Listed prices are per week and only include tuition. Please choose from your genuine capacity to pay and what you are comfortable with.

Basic rate 150 Euro - if you are in a financially uncomfortable place.
Sustainer rate 180 Euro - the actual value of the course paying for rent/teacher/material
Supporter rate 210 Euro - for the ones who are in a comfortable place & wish to support those who are not.
 
To sign up please use the  registration form on the bottom of this page. Your booking is confirmed when we have received the course fee within the next 48 hours after registration. Thank you.
ABOUT ANNETTE HARTWIG.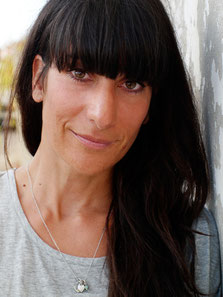 Annette Hartwig has been teaching Ashtanga Vinyasa yoga & meditation worldwide since 2001. She is a Yoga practitioner, MindBody-Therapy-Coach, Somatic-Stress-Release® practitioner and FRC® Mobility specialist. She is deeply inspired by the longterm relationship with Dena Kingsberg and has completed a 3 year Commited Practitioner Training (over 2000 hours) with her in Byron Bay.  Annette has studied Vedic & Mantra Chanting at the Krishnamacharia Institute in Chennai and immersed herself in In-depth-training with Richard Freeman, Clive Sheridan & Emil Wendel.

Annette's own practice and teaching embraces the dialogue between somatic exploration, sound & bhakti , movement & stillness. She believes that any moment itself can open a subtle, soft and profound healing space beyond any forms & boxes. Her emphasis in being lovingly present with our own vulnerabilities & strengths, the shadows & radiant light within. Revealing that the subtle-ness has never left us and we are held in a delightful interconnectedness of our individual and collective human experience.
DAWN COLLECTIVE SHALA / SURROUNDING ALJEZUR & ARRIFANA
The Immersion is a non-residential course and every student is asked to book their own accomodation according to their wishes, needs & budget. As this is a popular holiday destination we highly recommend to book accomodation as soon as possible. If helpful, here are some recommendations for accomodation.
The Dawn Collective Shala is bathed in the first early morning light and has a beautiful wooden floor. Yoga mats & blocks as well as filtered water & fresh herbal tea are available for you before/after class. It is located between the picturesque beaches of Arrifana and Monte Clerigo ( both 2 km) and the little village Aljezur (7 km), where you will find everything you need like cafés & restaurants, bakery, organic shops and a charming local farmers market on saturdays.
GETTING THERE AND GETTING AROUND.
The closest international airports are Faro (1hr 15Min) and Lisbon (3 hr) - both are connected to Aljezur with excellent freeways. Most comfortable to get around & discover the area is a rental car - we recommend to book a rental from luzcar (operating from Faro).
Public transport: Rede-Expressos Bus drives daily from Lisbon straight down to Aljezur and on week days you can also get from Faro via Lagos to Aljezur - please find all bus- and train connections in the Algarve on this website. 
Mountainbikes, E-Bikes and Scooters can be rented on a daily or weekly basis in Aljezur & Vale da Telha once you are here.
  
REGISTRATION FORM.
We are delighted that you are joining us for the Mysore Intensive summer program. After you have submitted the registration you will receive an email with information &  bank details. Please allow up to 24 hrs. for an answer. Thank you. If there is any uncertainty about the course or travel, please feel free to write us.

We are so looking forward meeting you here!
In case that you need to cancel your booking up to 4 weeks before the Intensive starts, the course fee will be refunded fully minus 30 Euro for administrative work.

For any cancellation later then 4 weeks before the Intensive, no refund will be available. In case of a COVID-related cancelation of the Intensive (only if there is a travel ban to portugal or closure of shala due to goverment regulations) we will refund the whole amount that has been paid.
 We highly recommend a travel cancelation insurance for the unfortunate case if you cannot participate in the Intensive due to health reasons.