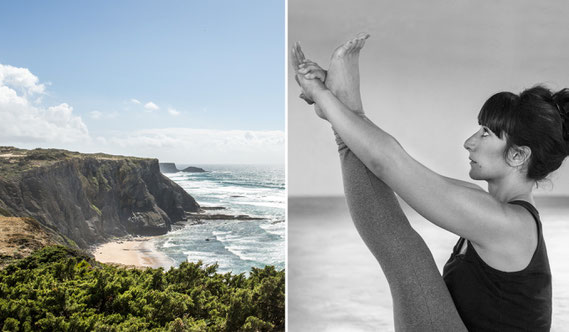 SEPT 01 - 05  |  SEPT 08 - 12  |  ARRIFANA, PORTUGAL
Mysore Intensive Summer Program with Annette Hartwig
The Mysore Intensive Summer Program is for everyone longing for a heartfelt connection, some collective rest and a transformative journey. Refreshing the body-mind and relaxing back into a state of wholeness with trust and clarity. Join us for in a small group setting at the Dawn Collective Shala which is nestled in the Costa Vicentina Natural Park - well known for it's endless and vast beaches, great surf and a diverse, wild hinterland.


Each morning session starts with embodied meditation & somatic exploration followed by chanting. During the Mysore Style Practice each practitioner will receive individual support from Annette to enrich the practice with more joy, presence and sustainability. Creating a warm loving relational field where the capacity to listen broadens, needs & boundaries are honored and we can celebrate our inherent aliveness. Through the lens of curiosity allowing ourselves to be who we truly are. Revealing a peaceful state of non-doing and acknowledging the natural currents of life.

The Workshop sessions will cover introspection & contemplation through asana refinement, functional mobility (FRC®), Stress release techniques, Self care & journaling, IAM Yoga Nidra, interactive philosophy talks & Sutra/Mantra Chanting.


SCHEDULE
We are offering 2 starting time-slots for the morning practice. Please choose in your booking either 6am - 8.15am or 8.15am  -10.15am for Embodied Meditation & Chanting followed by Mysore Style
 Self Practice. The afternoon workshop sessions will be for everyone on wednesdays, fridays & sundays 12.30pm - 14.30pm.
On moondays a complimentary practice based on a holistic view will be offered.
Please write us if you have a question regarding schedule.
TUITION.
The Intensive is offered in a sliding scale format. Please choose from your genuine capacity to pay. We trust that we will meet in the spirit in which these classes are offered.
1 week: 210 Euro / 250 Euro / 290 Euro

2 weeks: 380 Euro / 450 Euro / 525 Euro
Please let us know if you are sitting in a place of financial hardship and we will find a solution. Other donations are graciously accepted from those who have more to give and wish to support those who do not.
To sign up please use the  Registration Form on the bottom of this page. Due to govermental regulations the participation is limited and space will be given away by first come first serve.

The course fee needs to be wired within 48 hours after registration to secure your booking. If you cancel your booking up to 4 weeks before the Intensive starts, 80% of the course fee will be refunded. For any cancellation later then 4 weeks before the Intensive, no refund will be available.

In case of a COVID-related cancelation of the Intensive (travel ban to portugal or closure of shala due to goverment regulations) we will of course refund the whole amount paid.

PREREQUISITES.
You are welcome to join us completely as you are: with no or little yoga experience, seasoned ashtanga practitioners as well as people re-establishing their practice or recovering from injuries or with other conditions. Beginners are encouraged to join for 2 weeks to facilitate the best possible start and build a thorough foundation in Ashtanga yoga. Classes will be held in english and if needed german translation is always available. A Drop-In or other arrangements are by invitation from Annette only.

ABOUT ANNETTE HARTWIG.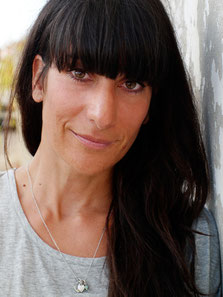 Annette Hartwig is an Ashtanga Yoga teacher, MindBody-Therapy-Practitioner (in training) and FRC® Mobility specialist. Annette has been  teaching Yoga, Medtiation worldwide since more than 2 decades and is a longterm student & assistant of Dena Kingsberg. Various in-depth-studies with Richard Freeman, Clive Sheridan, Emil Wendel and Scott Lyons have been enriching her own practice.

Annette's teaching is potent, undogmatic and encouraging. Her emphasis of being present in each moment invites a nurturing space filled with honesty and compassion where genuine change is possible and the deeper aspects of the practice naturally unfold. Annette is director of yogabija, a platform for yoga retreats & workshops in Europe and the co-creator of the Dawn Collective Yoga Shala in Arrifana, Portugal.
ACCOMMODATION.
The Mysore Intensive is a non residential Yoga course and students are asked to book their own accommodation. You can choose from a great variety of accommodation (different budgets and needs) within a 5 min walk to a 10 min. drive from the Dawn Collective Shala / the beach. As this is a popular destination in summer we recommend to seek accommodation as early as possible. Please find further info and some recommendations here. 
DAWN COLLECTIVE SHALA / SURROUNDING ALJEZUR & ARRIFANA
The Dawn Collective Shala (Google Maps) is located between the picturesque Arrifana Beach (2 km) and the little village Aljezur (7 km), where you will find everything you need like supermarkets, cafés & restaurants, bakery, organic shops and a charming local farmers market on saturdays. The stunning and unspoiled beaches of Arrifana, Monte Clerigo and Amoreira allow for endless summer days & unreal sunsets. All beaches are easy to access and offer great surf conditions. The jungle-ish hinterland with magic forests of pine, eucalyptus and cork can be explored with nature walks, mountain bike or donkey/horse rides.

The shala has a beautiful wooden floor and catches the first rays of sun in the morning. Yoga mats, blankets and blocks are available as well as a big lawn to hang out after class, filtered water and fresh herbal tea. Massage treatments are available at the Dawn Collective Shala throughout the entire season.
GETTING THERE AND GETTING AROUND.
The closest international airports are Faro (1hr 15Min) and Lisbon (3 hr) - both are connected to Aljezur with excellent freeways. Most comfortable to get around & discover the area is a rental car - we recommend to book a rental from luzcar (operating from Faro).
Public transport: Rede-Expressos Bus drives daily from Lisbon straight down to Aljezur and on week days you can also get from Faro via Lagos to Aljezur - please find all bus- and train connections in the Algarve on this website. 
Mountainbikes, E-Bikes and Scooters can be rented on a daily or weekly basis in Aljezur & Vale da Telha once you are here.
  
REGISTRATION FORM.
Please clarify availability & questions via E-mail before using this form. After you have submitted the registration you will receive an email with further information &  bank details. Please wait for our email before booking flights. As all our emails are answered personally please allow for 1-2 days for an answer. Thank you.
After receiving our email, the course fee needs to be wired by bank transfer within 72 hrs to secure your spot. Otherwise we will open that spot for someone else. A refund of 80% of the course will be given if you cancel your booking up to 4 weeks before the Intensive starts. When cancelling later no refund will be paid - unless it there is a Covid-related travel-ban and/or the Shala needs to be closed due to goverment regulations.
We are very much looking forward to having you here.
Please send us an e-mail if you have a question.
We are happy to help you at any time.