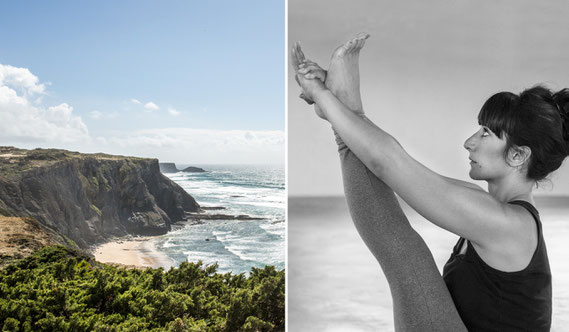 NEW DATES FOR  2019 COMING SOON!  |  ARRIFANA, PORTUGAL
Mysore Intensive Program with Annette Hartwig
The Mysore Intensive program is a non-residential Ashtanga Vinyasa Yoga course for everyone with the desire to cultivate more clarity, compassion and wholeness. Join us in a small group setting for one or up to six consecutive weeks at the Dawn Collective Shala in the Costa Vicentina Natural Park, one of Europe´s most stunning & untouched coastal regions. If you wish to practice Ashtanga Yoga during your holiday and savour the sun on the beach with your family-loved-ones or fellow students the Mysore Intensive Program is perfect for you.
Each morning begins with silent mediation,  pranayama & chanting followed by an Ashtanga Yoga Mysore Style Practice where Annette Hartwig is teaching with almost two decades of yoga experience and the utmost care & warmth. The daily practice allows for the possibility of daring to see & to be seen. Experiencing that Yoga is Now and revealing a deeper quality of acceptance, a harmonious state of non-doing rather then achieving a shape/posture.
SCHEDULE & REGISTRATION.
Monday - Friday
7.30 am - 8.15 am Meditation, Pranayama, Chanting.
8.15 am - 10.15 am Mysore Style

Two workshops (1, 5 hours each) on Monday & Wednesday include a playful exploration of sutra chanting, philosophy, alignment and meditation.

Rest days: Saturday, Sunday & Moon days with a complementary meditation practice on moon days.

Weekly course fee: 120 Euro when signing up for 2 or more weeks 150 Euro for one single week. To sign up please use the Registration Form on the bottom of this page. The course fee is non-refundable and needs to be wired within 48 hours after registration to save a spot.
Everyone is welcome, from an established Mysore Style practitioner to a complete beginner. Beginners are asked to join for 2 weeks to facilitate the best possible understanding and a solid foundation of Ashtanga Yoga. Places will be given by the "first come first serve" principle. Classes will be held in english (german translation is available). Drop-In's or other arrangements by invitation only.

ACCOMODATION.
SURROUNDING - ARRIFANA / ALJEZUR, PORTUGAL.
The Dawn Collective Shala is located between the picturesque fishermen-village of Arrifana (2 km) and  Aljezur (7 km): This is the location on Google Maps where the Shala will open in June. The beautiful beaches and cliffs of Arrifana, Monte Clerigo and Amoreira are easy to access and in Aljezur you will find everything you need like supermarkets, cafés & restaurants, an organic shop and a charming local farmers market on saturdays.
The magical landscape of the Costa Vicentina Natural Park with vast sandy beaches, great surf and a djungelish hinterland allows for easy summer days & moments of deep relaxation. And in the Dawn Collective Shala you can also spoil yourself and book a massage treatment.
ABOUT ANNETTE HARTWIG.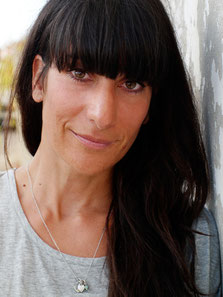 Annette Hartwig started practicing Ashtanga Vinyasa Yoga in 1997. She is deeply inspired by the longterm guidance of her beloved teacher Dena Kingsberg (certified by Sri K. P. Jois) whom she assists on international workshops. With more than 17 years of teaching experience, several in-depths-studies & trainings as well as her intuition Annette creates a nurturing class atmosphere where she supports & inspires students of all levels with precise observation, clear instructions and gentle hands-on-adjustments. In 2001 Annette has had the great fortune to study with the late Sri K. Pattabhi Jois. She regularly returns to Mysore to study with R. Sharat Jois and nourishes her curiosity by Intensive study courses with Richard Freeman.
GETTING THERE AND GETTING AROUND.
The closest international airports are Faro (1 hour 15 Min) and Lisbon (3 hours) - both are connected to Aljezur with excellent freeways. Most comfortable to get around & discover the area is a rental car - we recommend to book a rental from luzcar (operating from Faro).

Public transport: Rede-Expressos Bus drives daily from Lisbon straight down to Aljezur and on week days you can also get from Faro via Lagos to Aljezur - please find all bus- and train connections in the Algarve on this website. 
Mountainbikes, E-Bikes and Scooters can be rented on a daily or weekly basis in Aljezur & Vale da Telha.
  
REGISTRATION FORM.
Registration for 2019 will open beginning of February.

After having received your registration we will send you an E-mail with further information &  bank details. Please don´t expect an instant reply as no automatic confirmation system is in place but all our emails are 'hand-written'. Wait for our message before booking  flights!
The course fee is non-refundable and needs to be wired within 48 hrs to save a spot. We are very much looking forward to having you here!
Do you have a question? Please send us an Email - we are happy to help you at any time.