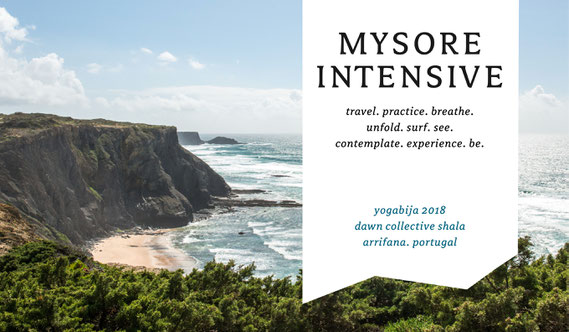 JULY 09 - 14  |  JULY 16 - 21  | AUGUST 20 - 25  |  AUGUST 27 - SEPT 01  |  SEPTEMBER 03 - 08  | SEPTEMBER 10 - 15
Mysore Intensive Program in Aljezur, Portugal.
The Mysore Intensive program is a nonresidential yoga course for everyone with the desire for more clarity & contentment. Join us for a week or two in a semi-private class setting at the Dawn Collective Shala (max. 6 Students). The magical and unspoiled nature here in the southwest Alentejo with vast sandy beaches, spectacular high cliffs and picturesque bays allows the unfolding of moments of distinct presence.
Each morning begins with silence & chanting followed by a Mysore Style Practice where personalized attention is a given. The daily Ashtanga Yoga Practice facilitates a sound balance of softness & strength and encourages a deep and authentic relationship with oneself.
Students book their own accomodation. There is a great variety of places to stay (for different budgets & needs) is within a 5-10 min. drive from the Shala and the beach. Please find our recommendations on the bottom of this page. If you wish to practice Ashtanga Yoga in your holiday and like to have plenty of time to spend on the beach with your family, partner or fellow students - the Mysore Intensive Program is perfect for you. 
LOCATION & SCHEDULE.
The Dawn Collective Shala is located between the picturesque village of Aljezur (2km) and the beautiful beaches and cliffs of Arrifana, Monte Clerigo and Amoreira. In Aljezur you find  supermarkets, cafés & restaurants, an organic shop and a local farmers market on saturdays. The nearest town is Lagos and the closest international Airports are Faro (1 hour 15 Min) and Lisbon (3 hours).
Sunday - Thursday: Mysore Style  7 - 9am
Friday: Led Class 7 - 9am
Tuesday & Friday, after the morning class:
1 additional hour pranayama & meditation
Thursday, after morning class:
1 additional hour sutra chanting
Rest days on Saturday and moon days.
| | |
| --- | --- |
|  Dates 2017 |  available spots |
|  July 09 - 14 | fully booked |
|  July 16 - 21 | fully booked |
|  August 20 - 25 | fully booked |
|  Aug. 27 - Sept. 01 | fully booked |
|  Sept. 03 - 08 | fully booked |
|  Sept. 10 - 15 | fully booked |
PRE-REQUISITE.
We welcome everyone - from an established Mysore Style practitioner to a complete beginner. Beginners are asked to join for 2 weeks to facilitate the best possible understanding & a solid foundation of Ashtanga Yoga. The number of students is limited to 6 per class. Places will be given by the "first come first serve" principle. Classes will be held in english unless all participants speak german. Drop-In's or other arrangements by invitation only. Please send us an e-mail if you are unsure if the course suits you or if you have any questions.
REGISTRATION & PAYMENT.
Course fee:  1 week: 150,- Euro  |  2 weeks: 240,- Euro
To sign up for the course please use the registration form on the bottom of this page. The course fee needs to be wired within 24hrs after registration and is non-refundable.
TEACHER.
Annette Hartwig started practicing Ashtanga Vinyasa Yoga in 1997. She is deeply inspired by the longterm guidance of her beloved teacher Dena Kingsberg (certified by Sri K.P. Jois) whom she assists on international workshops. With more than 16 years of teaching experience and her intuition Annette creates a nurturing class atmosphere where she supports & inspires students of all levels with precise observation, clear instructions and gentle hands-on-adjustments. In 2001 Annette has had the great fortune to study with the late Sri K. Pattabhi Jois. She regularly returns to Mysore to study with R. Sharat Jois and nourishes her curiosity by Intensive study courses with Richard Freeman.
GETTING THERE & GETTING AROUND.
The closest international airports are Faro (1 hour 15 Min) and Lisbon (3 hours) - both are connected to Aljezur with excellent freeways. We recommend to book a rental car. In the past participants were happy with rental cars from luzcar (operating from Faro). By bus you can get from Faro to Aljezur with EVA and Rede-Expressos & Rede Expressos also offers a daily service from Lisbon. All bus- and train connections in the Algarve can be found here. Mountainbikes and Scooters can be rented on a daily or weekly basis in Aljezur & Vale da Telha.
ACCOMODATION.
Please do not hesitate to write us an email if you have any question regarding the mysore intensive program.